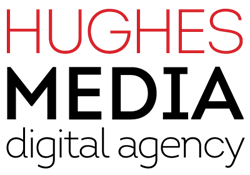 Atlanta, GA (PRWEB) April 09, 2014
In March 2014, Atlanta web design company Hughes Media completed a detailed overhaul, re-design and launch of the website for client Eat|See|Hear. Based in Los Angeles, CA, Eat|See|Hear specializes in outdoor movies and events in LA and surrounding suburbs and shows movies paired with live music from local artists; food trucks are on-site each week to provide snacks, meals and treats to attendees.
The website re-design stays true to the Eat|See|Hear aesthetic and continues to promote upcoming events with eye-catching colors, graphics and easy-to-read fonts. Most importantly, the new site was responsively designed to ensure visitors have an easy and pleasant experience when visiting the site on mobile devices. In addition, the design capitalizes on modern web design trends. The website features a full-frame layout that completely fills and conforms to the size of the browser and the social navigation bar at the top of the site scrolls with the user on the desktop site which allows the logo and social buttons for Eat|See|Hear to be visible and easily accessed regardless of a persons position on the page.
Were excited about the launch of the re-designed website for our client Eat|See|Hear, said Deedra Hughes, President of Hughes Media. The design has a clean, inviting and very modern aesthetic which symbolizes the trends and lifestyle of LA. We developed a site with modern visuals and conveniences including a blog layout that mimics Pinterest and a full screen site with large, captivating images.
In addition to the website re-design, Hughes Media provides SEO and SEM services to Eat|See|Hear to promote the website and the weekly movie, music and food events.
I have been working with Hughes Media for the past three years and the agency has become an integral part of the success of my business, said Sharon Sperber, owner of Eat|See|Hear. The new website has an excellent mobile interface to engage the growing crowd of mobile web surfers and to provide our fans quick access to information about our events and an easy way to purchase tickets in advance online.
Hughes Media, Inc. was founded in 2000 and is a boutique digital agency specializing in SEO services, web development and digital design, online marketing (SEM), social media and content creation. With over 20 years of advertising and marketing strategy experience, the Hughes Media team combines all aspects of digital marketing with search engine optimization and responsive, purposeful web design to improve client success and ROI. The team is a Google Partner certified in AdWords. To learn more about the services offered by Hughes Media, contact Deedra Hughes at (404) 848-0487 or visit http://www.hughesmedia.us.