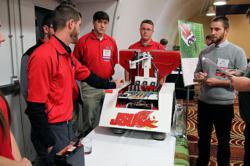 Ann Arbor, MI (PRWEB) December 04, 2012
Industry Professionals, college students and educators came together in Nashville, TN, the week of November 14, 2012, to share the latest in the fields of Technology Management and Applied Engineering at the ATMAE Annual Conference.
Students participated in the annual Robotics Competition. Nine college teams designed a challenge Robot that had to scoop up ping pong balls, sort them by color and distribute the balls to various points of the field. Each teams robot had to be programmed to do the scooping autonomously without student intervention. The teams were judged on automation, fabrication, control methodology, a technical report, design a poster and task completion.
The Winners: