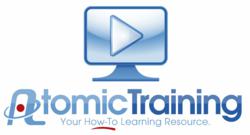 Little Falls, MN (PRWEB) January 30, 2013
Online software training company, Atomic Training, is proud to reveal their latest site feature which allows users to create a custom training series that can be viewed either by their entire organization or smaller groups within an organization. This new feature makes it easy for organizations to quickly and easily create unique training series on topics such as orientation, internal training issues, organization policies, or any other training materials unique to the organization.
We found the need for this feature directly from our previous clients, says Cole Eklund, Solutions Manager for Atomic Training. It makes the training library more functional and user-friendly for all levels of organizational structure whether its used for training company-wide or for small groups of staff members.
When creating a custom training series, users can include a variety of training resources including a full range of video files, audio files, a variety of others (.pdf, .doc, .ppt, etc), as well as external links to other sites.
The Atomic Training online library provides training on over 150 popular topics including Windows 8, iPad, Microsoft Office products, and more. Once a user creates a custom training series, it behaves just like all other Atomic Training series, in that it can be recommended to users, assigned to users, and/or added to users favorites.
To find out more information about whether Atomic Training can help your organization meet its training needs, please visit atomictraining.com/moreinfo, follow them on Twitter (@atomic_training) or Like them on Facebook.