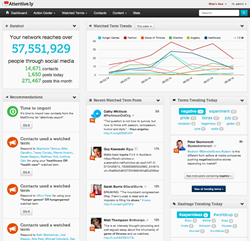 Washington, D.C. (PRWEB) June 30, 2014
In recognition of global Social Media Day, Attentive.ly announces its enterprise availability as the first and only social marketing automation tool of its kind, enabling marketers to listen and proactively target customers based on real-time social behavior data. Since the release of its latest features and functionalities, Attentive.ly has become perfectly suited for corporations and large agencies. The cloud-based application can be used as a standalone tool, but also integrates seamlessly with dozens of CRM and ESP systems. In fact, Attentive.ly recently released its application on the Eloqua platform, allowing users to funnel free-flowing customer engagement into structured data fields.
Used by over 100 brands, the plug-and-play solution allows enterprise organizations to enhance personalization efforts based on existing customers online social behaviors. Unlike other solutions, Attentive.ly is the first platform to truly integrate enterprise listening tools with real-time marketing automation to accurately target key Influencers and brand advocates. This seamless software delivers analytics based on user content rather than static profiles, which allows marketers to trigger personalized messages across email and social media channels significantly boosting response results.
According to a study conducted by Experian, personal messages result in six times higher transaction rates, yet 70 percent of companies are not personalizing email marketing messages to customers. In addition, actions against bulk marketing email campaigns by big name servers like Google and Yahoo have led to the critical need for highly targeted, customized messaging for effective delivery. By giving corporations an ear to customers Influential conversations on social media networks, Attentive.ly creates the ability to optimize timing and influence, power triggered touches and automate messages.
As digital agency veterans, we understand the challenges marketers face with personalization from big data, especially with the billions of customer conversations taking place simultaneously on social networks everyday, said Rosalyn Lemieux, CEO and co-founder of Attentive.ly. Attentive.ly is the ONLY available application allowing marketers to prompt personalized email and social media communications, reserve resources and predict customer behaviors all from social media conversations. Were very excited to announce the enterprise availability and release the Attentive.ly app on the Eloqua platform just in time for Social Media Day providing real-time value to corporate marketers on the most social day of the year.
Click here to request a demo of the Attentive.ly solution, and Eloqua users can try out the new Attentive.ly app on their existing platforms here.
###
About Attentive.ly

Attentively is a customer behavior platform for modern marketing teams. We help companies and organizations to predict how customers will behave – even what they might do or buy – from social data. These customer-specific insights enable them to promote in more effective and meaningful ways. The platform is a cloud-based application that can function as a stand-alone application or integrate with a clients existing CRM and Email Provider (like Eloqua, ActiveCampaign, MailChimp to name a few). Attentive.ly has been used by over 100 brands, companies and organizations to identify 8 million+ influencers and engage them via hundreds of campaigns. For more information visit Attentive.ly and follow @attentive_ly on Twitter.