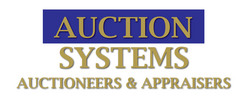 Phoenix, AZ (PRWEB) February 01, 2013
Auction Systems Auctioneers & Appraisers, Inc., will host a marathon auction featuring jewelry, tools, city surplus, school district supplies and equipment, electronics, appliances, computers, commercial equipment, restaurant equipment, sporting goods, household items, furniture and much more on Saturday, February 2, 2013.
Items of interest for this Phoenix marathon auction include: ThermosSpas Gemini Jacuzzi bathtub, Maxfire BBQ grill, Joe DiMaggio signed baseball, Sony iPod Doc, Christian Dior ladies watch, Oakley goggles, Stanley stainless steel dry vac, Kennedy tool box, Emperor grandfather clock, Salomon snowboard, plus much more.
This auction has it all, said Deb Weidenhamer, CEO of Auction Systems Auctioneers & Appraisers Inc. Attendees can bid on a wide range of surplus property no longer needed by the city, as well as valuable items confiscated during a crime. Where else could you find such diversity along with an opportunity to get a great deal?
The marathon auction will be held on Saturday, February 2, 2013 at 9:00 a.m. at Auction Systems located at 951 W. Watkins in Phoenix, AZ. All of the items listed in the auction may be previewed and inspected by interested bidders on Thursday, January 31, 2013 from 4:00 p.m. to 6:00 p.m., Friday, February 1, 2013 from 10:00 a.m. to 2:00 p.m., and Saturday, February 2, 2013 from 8:00 a.m. to 9:00 a.m. one hour prior to auction.
Interested parties can visit Auction Systems Phoenix auction schedule for more information.
About Auction Systems Auctioneers & Appraisers, Inc.

Auction Systems Auctioneers & Appraisers, Inc. is the Southwest's most active auction and appraisal company. Auction Systems features live and live simulcast auctions and appraisals of stolen and confiscated Police and personal product including cars, tools, electronics, jewelry, sporting, coins and surplus, as well as auctions of commercial and heavy equipment, real estate, antiques, guns, estate and business liquidation and bankruptcy.
Based in Phoenix, Arizona and an INC. 500 company, Auction Systems is one of the fastest growing privately held companies within the United States. Additionally, Auction Systems is an ICIC INC. 100 company and is ranked as the #1 fastest growing woman-owned business and the fifteenth fastest growing business overall within the inner cities of the United States.
Auction Systems Auctioneers & Appraisers, Inc. can be found on the web at http://auctionANDappraise.com.
###