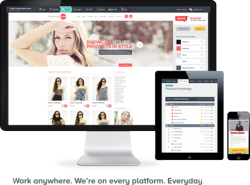 Melbourne, Victoria (PRWEB) July 06, 2013
Web123 has just launched the ProPartner Program, a world-first web building program for Australian design and print professionals. The program is designed to free designers from web developer hell by giving them complete control of their clients build process, without a single line of code.
The ProPartner Program is unprecedented because it gives designers a comprehensive web business in a box solution. With a major component of the program being support and education, Web123 shows designers how to create a profitable web business.
Two years in the making, with hundreds of video tutorials and resources, personal mentoring and unlimited technical support, no other website development company comes close to the depth of value this program offers. Web123 also offers their ProPartners low wholesale rates, an easy design process and fast website turnarounds in days, not week; all in all, it creates the foundations of a very profitable web business.
Created for designers by a designer, Bianca Board, Director of Web123 wanted to make doing web easy.
Back when I was a graphic designer I was sick of expensive websites. I was sick of being ripped off and I was sick of projects running overtime and bleeding my profits dry. I started Web123 so I could control the process to deliver my clients a great website, on time and on budget. And after everything weve learnt servicing thousands of businesses, Im now able to help my fellow designers do the same thing, said Ms Board.
Simon Langridge, Sales Director at Web123, said, This is worlds apart from your typical website reseller program. Yes, Web123 offers ProPartners access to a great web builder and yes we offer a world-class portal that lets you track and administrate your projects, but thats not all. What really sets us apart is our comprehensive educational program with hundreds of practical videos, downloadable resources and business-building forms and emails.
But, dont think the training and support is all online. We wanted you to feel supported, by real people with real experience. All our ProPartners receive several training sessions on the phone plus they have their very own account manager whose only job is to grow their ProPartners business, said Mr. Langridge.
Web123s Get Smart eLearning system can transform a design or print professional into a certified web designer in the space of a day. Plus, you can expand your training to focus on web design, digital marketing or website sales.
Ms. Board said, Seriously, with our ProPartner Program youll never be held to ransom by a web developer again. No more wondering if youll make a buck at the end of the project. We put web projects back in your control, the way it should be.
I would have killed for this sort of program when I started out in web. Its going to revolutionise how designers do web projects and it creates a huge competitive advantage. After all, who would you rather work with? A web designer who throws together a site and leaves you to it? Or a web designer who has the knowledge and the tools to make your website work hard for your money? said Ms. Board.