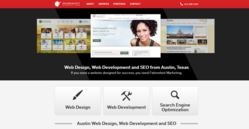 AUSTIN, TEXAS (PRWEB) February 07, 2013
Austin Web design firm Fahrenheit Marketing has redesigned its website to better meet the needs of potential clients.
The firm implemented a responsive design and built the new website from the ground up, creating a new layout, new content and new navigation to give potential clients a better and more user-friendly overview of the marketing firms services.
Weve noticed that our traffic is increasingly coming from tablet and smartphones, Fahrenheit Marketing CEO Ricardo Casas said. When we set out to create this new website, we wanted to take that into account and allow our visitors to have a seamless experience, regardless of the device they use to visit our website.
Fahrenheit Marketing added several new pieces to its online portfolio, detailing how the firm helped its clients get new customers and succeed in their field. To show these accomplishments, Fahrenheit Marketing added charts and statistics of the firms marketing successes throughout the website.
Were a very results-focused agency, Casas said. We have noticed that the clients we work with the best are also results focused, so we wanted to find a way to show potential clients that we are dedicated to their success. We quickly found that charts were the most effective way to do that. Its important to us to constantly help our clients get new customers, and these charts are a reflection of our drive to get results.
To see the redesigned website or request a consultation with a member of the Fahrenheit Marketing team, visit http://www.fahrenheitmarketing.com/.
About Fahrenheit Marketing
Fahrenheit Marketing is an Internet marketing firm in Austin, Texas. Since 2008, it has provided a full range of marketing capabilities from search engine optimization to call tracking and conversion management for a variety of clients. Its employees are passionate about digital marketing and constantly innovating in their fields.
###