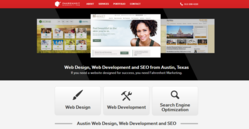 Austin, TX (PRWEB) April 18, 2013
Fahrenheit Marketing, a Web design and development firm in Austin, will launch its loyalty program, Qwestrix, in beta testing on April 5.
Qwestrix is a loyalty program and online community for licensed professionals and their clients. Clients will be able to earn a minimum of 10 percent discounts on qualifying procedures with dentists, dermatologists, primary care providers and more.
In phase one, Qwestrix will focus on medical and dental services and clients will be able to submit questions to be answered by doctors and other medical professionals in order to get the best possible online advice.
Through the program, doctors will be able to better communicate with their patients, help more patients efficiently and grow their customer base by answering medical questions online. Doctors also have the option to import their patient lists to use Qwestrix to organize their patient notes and keep track of their rewards via the Qwestrix dashboard.
Were excited to launch this program because weve seen such a need for it with our clients, Fahrenheit Marketing CEO Ricardo Casas said. Theres nothing else out there like Qwestrix: The program helps patients through the ability to earn discounts and get professional advice without going to the doctors office, and it helps doctors by allowing them to expand their practice to any patient in the program.
Qwestrix already has a number of doctors prepared to participate in the program, but there are a limited number of openings remaining for the beta testing. Medical professionals who are interested in participating in the beta test should visit http://www.qwestrix.com.
About Fahrenheit Marketing

Fahrenheit Marketing is an Internet marketing firm in Austin, Texas. Since 2008, it has provided a full range of marketing capabilities from search engine optimization and Web development to call tracking and conversion management for a variety of clients. Its employees are passionate about digital marketing and constantly innovating in their fields.
###