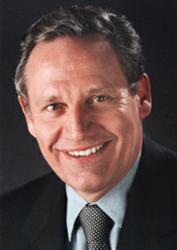 Cherry Hill, NJ (PRWEB) February 27, 2013
The AmeriQuest Symposium, now celebrating its 10th year of bringing together industry experts, thought leaders, and decision-makers to share insights and ideas, has named Pulitzer Prize-winning journalist and best-selling author Bob Woodward as one of its keynote speakers. The Symposium takes place at the Ritz-Carlton Orlando Grande Lakes, April 17-19.
The AmeriQuest Symposium is the premier platform where industry leaders explore the issues impacting their businesses and then define the solutions and tools needed to create success, said Doug Clark, President and CEO of AmeriQuest Business Services, providing business process outsourcing services. We chose Bob Woodward to give our attendees an insiders view of how the current political atmosphere in Washington will affect their companies future.
Woodward has authored 16 national bestsellers since coming into prominence in 1973, reporting on the Watergate scandal that led to government investigations and the eventual resignation of President Richard Nixon. The New York Times has called the work of Woodward and his reporting partner Carl Bernstein maybe the single greatest reporting effort of all time.
His most recent book, The Price of Politics, is an intimate examination of how President Barack Obama and the highest profile Republican and Democratic leaders in the U.S. Congress attempted to restore the American economy and improve the federal governments fiscal condition. Woodward is a U.S. Navy veteran.
In addition to Woodward, AmeriQuest Symposium speakers on the agenda include Carmine Gallo, best-selling author of The Apple Experience and The Presentation Secrets of Steve Jobs, and Dan North, Chief Economist for Euler Hermes, ACI. In addition, the event includes educational sessions and a Trade and Technology Reception.
More information is available on the AmeriQuest Website at ameriquestcorp.com/symposium. For sponsorship and exhibitor information, contact Kate Barnes at kbarnes(at)ameriquestcorp(dot)com or at 856-382-4701.
About AmeriQuest Business Services, Inc.
AmeriQuest is a business process outsourcing company, serving more than 1,500 customers throughout North America. Combining unmatched expertise, comprehensive services in the supply management, managed services, and financial supply chain functions, AmeriQuest Business Services helps customers move forward in every part of their business. For more information, visit ameriquestcorp.com.