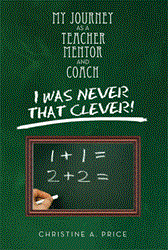 Mansfield, UK (PRWEB) October 14, 2013
My Journey As a Teacher, Mentor, and Coach is a teachers memoir, detailing author Christine A. Prices complex path to becoming a qualified coach. It is an inspiring work for those considering a career in teaching, those in initial teacher training, and those already in teaching who want to develop existing skills further and find out about new models, ideas, and resources to use. Anyone who reads this book will learn new ways to engage learners in learning whilst also having fun. This story can relate to anybody, for those who want to be inspired to find their own solutions and those who just like to read about other peoples personal journeys.
Included in the book are examples of effective and innovative practices and insights for a range of audiences. In addition, the authors personal journey is unique and shows that the teaching vocation admits all kinds into its ranks. Also, modern education ideally does not admit any kind of prejudice against students. Christine Price exemplifies and practises this ideal to the hilthaving started as a teacher in a college for people with disabilities and is happily teaching there still. She had wanted to become a teacher at an early age and experience with students with a wide variety of disabilities has instilled in her the will to innovate and learn more methods to impart knowledge. It is a discipline that makes this book have the full spectrum of new, humane and progressive teaching methodologies.
Perhaps Christine A. Price has the perfect temperament for teaching people with disabilities. A former teacher, early in her quest to become a teacher, told her she was not clever enough to teach. Price, though, is in the forefront of cutting edge innovation in education, having become a director for Karten Network, which supports organisations working for people with disabilities. For them, education is allthe author is a firm believer in it and this, in addition to the highly interesting techniques she discusses in her book, makes Prices enthusiasm for teaching shine as an example for many whose vocation has led them to serving those in need of an education.
For more information on this book, interested parties may log on to http://www.XlibrisPublishing.co.uk.
About the Author

Having worked in administration and customer service roles for a period of ten years, Christine A. Price began her journey into teaching in 1987 and accepted her first full-time post with a college for people with disabilities in 1989 and is still there today. The range of disabilities is vast and includes cerebral palsy, epilepsy, autism, and associated learning difficulties.
Her role as a teacher has continually changed, over the years, to ensure that her students are being trained in relevant subjects to assist them in gaining employment according to the needs of the job market, and developing life skills to be able to live more independently. She has mentored other teachers to the highest standards, using innovative methods and creative resources over the last twenty years. She was also invited to work with City & Guilds to create a qualification for desktop publishing. Following an Ofsted report in 2004, which recognised her for good practice, Price was invited to engage with a government initiative to improve the standards in teaching and learning in 2005. As an advanced learning coach, she received funding to carry out action research, delivered the Subject Learning Coach Professional Training Programme to teachers in the FE sector, and worked as an educational consultant, facilitating a series of network meetings to teachers nationwide. She was asked to become a director for the Karten Network, which encourages CTEC Centres to share good practices. She has met people who have inspired her throughout her personal journey and wanted to write this book to inspire others to choose a career in teaching to engage learners and make learning fun. This story can relate to anybody, for those who want to be inspired to find their own solutions and those who just like to read about other peoples personal journeys She is humbled to work with incredible learners, with a wide range of physical disabilities and associated learning difficulties, and still loves her job as much today as she did over two decades ago.
My Journey As a Teacher, Mentor, and Coach * by Christine A. Price

I was Never That Clever!

Publication Date: October 10, 2013

Trade Paperback;