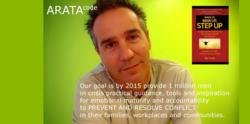 San Francisco, California (PRWEB) May 02, 2013
Author, speaker and advocate for mens emotional maturity, Ray Arata, today announced that his campaign on the Idiegogo crowdfunding platform called Crowd-Authoring ARATACode which is designed to co-write with supporters a second edition of his popular book Wake Up, Man Up, Step Up, exceeded its fundraising goal of $ 10,000 within the first 8 hours of the campaign launch. (Campaign page: igg.me/at/ARATAcode).
I see it as a sign were onto something that can help us create a safer world. Hurt men are hurting innocent people in numerous ways all over the planet. Ive committed to, by 2015, provide one million men in crisis, practical guidance, tools and inspiration for emotional maturity and accountability so they become able to prevent and resolve conflict in their families, workplaces and communities. After the contributors add their stories to the new book, we will send the books into prisons, as well as boardrooms and Congress, so men who really need it can read it, said Arata.
Supporters are also contributing to have the book anonymously sent to their bosses, mates, friends, family members or others who could use some growing up. Aratas book, Wake Up, Man Up, Step Up is described by one reviewer as: a treasure map that, if followed, will lead you to your best self. It will help you see that the journey inside yourself is where the freedom is. Around the world, our communities – our women, and children need us men, to wake-up and step-up.
Arata, whose main work is coaching men, women and corporate executives how to become their best selves and leaders in their worlds, sees a wider lesson in the success of his campaign. It takes a while to get men to learn that it is not a sign of weakness to ask for help. Crowdfunding is all about not trying to do it alone and it feels great that people are responding.
Since in his spare time Arata does pro-bono work in prisons, Olga Kostrova, COO of SocialAgenda Media, marketing company behind the campaign says, Im hoping that Ray takes the story of the success of his campaign to inmates, so they learn not only lessons of emotional intelligence and accountability, but also understand that crowdfunding is a new option for their families to start income generating projects and get out of poverty. Crowdfunding as an industry can become a vehicle for real social change, because now the least powerful among us can bypass banks and other gatekeepers, and find ways to start small businesses and attract the support they need to progress in life.
Even though Ray works mainly with people outside of prisons, we emphasized the prison angle in the campaign because it symbolizes the way many of us become imprisoned in our attitudes and patterns, offers SocialAgenda Media CEO, Jan Hutchins. When we become willing to do the inside job of dis-identifying with old beliefs and actually become peaceful, loving and productive, thats when the outside world starts to change.
About Ray Arata:
San Francisco based, Ray Arata is the founder of the ARATAcode, an evolutionary system for Emotional Maturity and Accountability