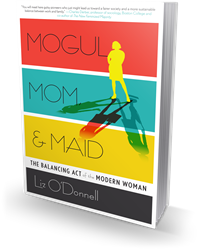 Boston, MA (PRWEB) April 02, 2014
Author Liz O'Donnell of Mogul, Mom, & Maid: The Balancing Act of the Modern Woman (Bibliomotion, 2013) will host two book and networking events in Boston this month. Copies of the book will be available to purchase, and both events are open to the public.
Liz will speak and sign copies of the book at the Your Time To Shine networking event on Thursday, April 10. This event will be hosted by Mommys Event BFF and Passion Fire Women, and proceeds will be donated to One Mission.
Liz will speak on the steps to create a true workflex culture and host a book signing at the National Association of Professional Women event on Tuesday, April 29.
Click the links above to register and for more details about these events.
About the book:
The state of working women has been declared, debunked and debated since the days of Rosie the Riveter. The headlines, and the statistics behind them, however, dont tell the whole story. The truth is, many women today are breadwinners; and these breadwinners are struggling. They are caught in a perfect storm of male-dominated culture at work, traditional social norms at home, and outdated schedules in the schools. Mogul, Mom, & Maid takes an honest look at how women are balancing home life and career. The pressures of child rearing, coupled with an unfulfilling corporate culture, are too great to be ignored. Author Liz ODonnell goes beyond statistics and tells the stories of women all across America who are juggling careers, motherhood, marriage, and households. Mogul, Mom, & Maid looks at the choices women are making, the options they have, and the impact these decisions have on themselves, their families, and the businesses that employ them.
Praise:
"This is the perfect moment for this important book which advances the conversation about how to provide and care for yourself and your family, while living a happy and meaningful life. Could there be a more important topic? Liz ODonnell does a wonderful job combining the stories of real women, with helpful research, and specific action steps. Well done." Jacki Zehner, CEO Women Moving Millions and former partner and managing director, Goldman Sachs
"In Mogul, Mom, & Maid, women breadwinners share their honest views on the challenges they face in reaching their true potential. While many of those challenges manifest at the conference table, they also manifest at the kitchen table. In giving voice to these women and the issues they face managing both work and home, ODonnell helps crack the code on whats holding women back and outlines practical steps to help women, their partners, and their employers redefine womens relationships with and access to power." Gloria Feldt, co-founder of Take The Lead and author of No Excuses: 9 Ways Women Can Change How We Think About Power
"O'Donnell gives us straight talk and a revealing inside look at an unsung and besieged heroine: the working woman. Drawing on scores of interviews, ODonnell is a perceptive guide to the challenges posed by husbands (when present), children, workplaces, and womens own hopes and doubts. Racing to keep pace with a relentless daily calendar and to-do list, the women you will meet here are gutsy pioneers who just might lead us toward a fairer society and a more sustainable balance between work and family." Charles Derber, professor of sociology at Boston College, co-author of The New Feminized Majority: How Democrats Can Change America with Womens Values and Sociopathic Society: A Peoples Sociology of the United States
About the author:
Liz ODonnell is a want-to-be mogul, busy working mother and sometimes maid. A public relations executive by day, Liz counsels clients ranging from large financial institutions to early-stage technology startups on traditional and social media communications strategies.
Liz is also the founder of Hello Ladies, an award winning website for smart, busy women and named one of the top 100 websites for women by Forbes magazine. She is a regular contributor to The Huffington Post and Momsrising.org and her commentary on womens issues has appeared in The Atlanta Journal Constitution, The Tampa Tribune, Gatehouse Media and The Glass Hammer.
Liz lives in Dedham, Mass. with her husband and two children. She is a recovering PTO president, a long-serving Town Meeting Member and co-founder of Women in Democracy Dedham, a non-partisan organization committed to encouraging and supporting womens involvement in local politics.
About Bibliomotion, books + media:
Bibliomotion is a book publishing house designed for the new publishing landscape. While many publishers work to retrofit old processes for new realities, Bibliomotion was founded by book-industry veterans who believe the best approach is a fresh one one that focuses on empowering authors and serving readers above all else. Moving away from the top-down model that has dominated the publishing process for years, we give each member of the team including the author a seat at the table from the very beginning and in doing so, work side-by-side to launch and sell the best content possible, making it available in a variety of forms.