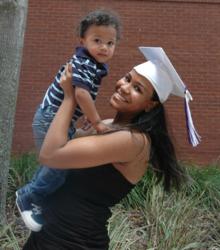 (PRWEB) April 30, 2013
In honor of her 50th birthday, Winners Don't Quit … Today They Call Me Doctor author and award-winning innovative leader, Dr. Pamela McCauley Bush, is giving back through an inspiring "50 Days of Giving for 50 Years of Living" community campaign.
An insecure teen mother at age 15, Bush struggled against the odds to complete her education. Even the case worker in the welfare office questioned Bushs choice of pursuing college, attempting to write her off as another statistic.
Bush persevered and became the first African American woman to receive a PhD in Engineering in the state of Oklahoma and then went on to become a Martin Luther King, Jr. Visiting Associate Professor of Aeronautics and Astronautics at MIT. Today, Dr. Bush is a Full Professor in the Department of Industrial Engineering and Management Systems at University of Central Florida and a globally renowned motivational speaker in the Womens Leadership and STEM Education communities.
The 50 years it took to reach this level of success included major obstacles and adversity along the way, as detailed in her acclaimed inspirational book Winners Don't Quit … Today They Call Me Doctor, reviewed on Amazon as, "Difficult to put down!" and "You have inspired me!!!"
Dr. Bush will kick off her 50 Days of Giving for 50 Years of Living campaign at Orlando's BETA Teen Center. The Center's mission is to give children and parents the knowledge and support needed for strong and healthy families, with a focus on teen moms and at-risk families. In 2011- 2012, 100% of the 40 pregnant and parenting teens who completed the school year at BETA School progressed to the next grade level despite the challenges of going to school and raising a child.
Considered a very empowering and inspirational speaker, Dr. Bush will speak to the teen moms, share her story, and impart powerful inspiration on never giving up and how to forge ahead against the odds. "It is women like Dr. Bush that provide that can do inspiration to these young women at BETA Center," says BETA Center President & CEO Ruth Patrick.
Dr. Bush hopes to continue this path in both Florida and Oklahoma, interacting with organizations such as the YMCA Young Achievers, the Boys and Girls Club, and The Power Promise Organization. She plans on volunteering her time and resources while creating video and blog posts on her http://www.PamelaMcCauleyBush.com website to further raise awareness for the various groups she is supporting.