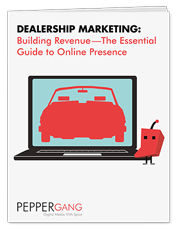 Cambridge, MA (PRWEB) January 16, 2014
Boston auto dealer digital marketing agency, Pepper Gang, announced the results of their recent survey that studies consumer behavior in the process of researching an automotive purchase and choosing an auto dealership.
Participants submitted answers to 10 questions designed to learn where they went for information, and what kind of information influenced them, when researching their next vehicle purchase.
The Pepper Gang team then compiled the survey results in a detailed report, and a comprehensive white paper that includes detailed responses for each question and what those responses mean for auto dealers looking to grow their businesses. Both are available as part of their online resource library on the company website.
We conducted the survey as a result of some opportunities we saw in the auto dealership industry, said Stefanie Daneau, Pepper Gang co-founder and lead business developer. It's crucial for businesses to use digital marketing to reach customers when they search online, but we noticed that marketing efforts from some local dealerships werent always meeting customers in the digital space. We wanted to provide feedback for dealers on just how crucial those kinds of interactions are to modern consumers.
Some key findings: