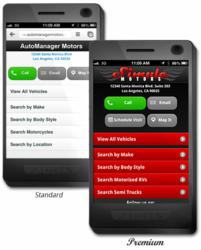 Los Angeles, California (PRWEB) April 16, 2013
AutoManager, a dealer software company, announced the release of several major enhancements to its mobile websites for auto dealers Tuesday.
The company released an update to WebManager, its website and online marketing tool, that gave mobile websites prominent buttons for calling the dealer, emailing the dealer, and getting turn-by-turn directions to the dealership. AutoManager CEO Kami Tafreshi said the changes would help WebManager dealers provide a top-notch shopping experience for mobile visitors.
In addition to these enhancements, which have been rolled out to all WebManager customers, Tafreshi also announced a new option for dealers to upgrade to a Premium mobile website. These websites create consistent branding using the dealers unique logo, custom color schemes and expanded fonts. They also create more lead potential with a Share button that allows mobile visitors to email a link to the listing or post it on Facebook and Twitter, and a Schedule Visit button for requesting test drives and service appointments. And they give vehicle shoppers one-click access to a dealers social media accounts on Facebook, Twitter and Google+ Local so they can receive updates about sales promotions, new inventory and more.
Premium mobile websites are a one-time $ 295 upgrade to any WebManager plan.
Tafreshi said Premium mobile websites give dealers an enhanced level of design and functionality that rivals that of traditional websites. A strong mobile experience has become increasingly important in 2013, a year when Cisco predicts the number of web-connected mobile devices will surpass the worlds population.
Statistics tell us the flow of car buyers is shifting dramatically from desktop internet browsing to mobile browsing, Tafreshi said. Dealers need to be confident that their website works just as well on a smartphone and on a tablet as it does on a computer.
Basic WebManager subscriptions start at $ 360 for six months and include exports to over 100 online marketplaces, eBay integration, automatic posting to Craigslist, analytics/price comparison tools, a vehicle video generator and more. Inventory can be added via any computer with an internet connection or the free AutoManager.Mobile app for iPhone