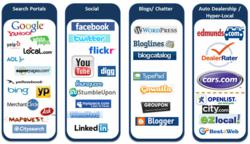 Columbus, Ohio (PRWEB) January 29, 2013
AutoSweets Marketing Hub with integrated reputation management connects automotive dealerships with the growing marketplace of consumers who prefer to research their next purchase digitally across online, mobile and social channels. This smarter automobile dealership marketing system provides intelligent automation of marketing, sales, customer service reviews, and social media analytics to help internet marketing managers, general managers, sales managers and customer service executives be more productive and efficient.
Dealerships can consolidate multiple vendors or outsourced services for savings, or they can use the Hub to get a command and control view of their vendors efforts.
The new reputation management tool gives dealerships access to powerful, yet easy-to-use dashboards that gather, analyze and recommend actions dealers can enact themselves, participating in conversations with their customers via one-click access. These dashboards will provide marketing functionality that is typically costly to maintain and are usually outsourced to various vendors: reputation management, social media analytics, search engine optimization, and local search.
The Marketing Hub by AutoSweet extends a dealerships marketing efforts well beyond reputation and social media analytics it allows for DIY management through the entire marketing life-cycle. From pricing and appraisal of vehicles as they come into the dealership to maximize profitability, to insuring the vehicles are displayed correctly through all media distribution networks (Cars.com, AutoTrader, free classifieds, etc.), as well window stickers, addendums and buyers guides. At the heart of AutoSweets software and services is the tight integration of data from dealerships CRM and DMS to be utilized to create opportunities to drive marketing effectiveness. Now data from all of the social and digital channels integrated into the Hub allows a dealership to maximize the performance of their marketing spends, engage customers, see the big picture of their marketing initiatives, as well as benchmark their efforts against their competitors.
Why are reputation management and social media analytics so important to todays automobile dealership?
One Negative Review on a social media site can cost 30 new customers (Convergys, 2012)

78 percent of all shoppers use the Internet to research and purchase products and services (Cisco Corporation Study, 2013)
Automobile shoppers buying habits are changing with the rise of social networks and smart mobile devices. Gone are the days of dropping into a dealership and solely being influenced by the salesperson, says Christopher Lentz, founder and president of AutoSweet. As a result, the need for reputation management and social analytics in the hands of the dealership is greater than ever. Whether you are a large dealership group or an individual store – controlling your brand and reputation by interacting with today's digitally empowered consumers is essential.
Some dealerships rightly need to have outside vendors manage their social marketing channels, and for these dealerships we now give them an unbiased and clear look into their vendors efforts, adds Lentz. They can now clearly see the influence of social channels as well as local. They can ask informed questions: is it money well spent, what is the ROI, and what are leads and sales influenced by? We are determined to build smarter dealerships, armed with the data, tools, and techniques to market in this ever-changing sales environment.
To learn more and arrange a free demonstration of the solution, contact sales(at)autosweet(dot)com.
About AutoSweet

AutoSweet is a marketing company that helps automotive dealerships dominate their local markets through our software and services that create leads, increase sales, enhance reputation, augment search visibility, and boost efficiency. AutoSweet drives marketing efforts at dealerships across multiple sales channels: New Vehicles, Used Vehicles, and Service all built with an eye towards maximizing the dealerships return on investment.