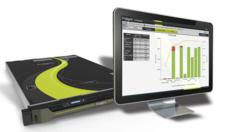 Montreal, Canada (PRWEB) February 28, 2013
Averna, an industry-leading developer of test solutions and services for communications and electronics device makers worldwide, today announced that Proligent Analytics has been honored with a DesignVision award for most innovative Verification Tool of the year.
The awards ceremony took place on January 29, in Santa Clara, CA, during the 2013 DesignCon show. The DesignVision awards, handed out annually, honor the most innovative design tools in the electronics industry. Winners were selected based on three criteria: how well the product met the markets vision and offered unique insight into customer needs; the originality of the solution and if it offered a new approach to meeting market needs; and the quality of the implementation and how well it fits the market requirements.
We had quite a challenging time choosing these winners among all of the innovative products we judged, said Patrick Mannion, Content Director and Brand Director EDN, Test & Measurement World & Planet Analog. Ultimately, our 2013 winners represent the best of the best in each of their respective industries.
With contract manufacturers and service centers dispersed across the globe, test data is often scattered across multiple sites and can require months to gather and transform it into useful information. Such delays can lead to significant quality-related issues. Proligent Analytics was designed specifically to offer product designers better access to their test data and give them important visibility regarding product development, said Eric Lamontagne, Team Leader Proligent Analytics for Averna. We are honored that Proligent Analytics was recognized with this prestigious award. It is a validation of our efforts.
For additional information about the DesignCon Expo and DesignVision award, click here.
Click to Tweet: From @Avernatech: Avernas Proligent Analytics Wins DesignVision Award http://bit.ly/VzecM1 @UBMDesignCon.
About Averna

Averna is a premier manufacturing solution provider for communications and electronics device-makers worldwide, helping them deliver a better end-user customer experience. Key Averna clients in the communications, aerospace, defense, automotive, consumer electronics, and medical device industries use Proligent, RF Test Instruments, and other test solutions to accelerate product development, reduce manufacturing costs, achieve superior quality throughout the lifecycle, and solve critical supply-chain issues.
Averna has offices and sales partners around the world. Incorporated in 1999, Averna is a Best in Test award winner, an Ernst & Young Entrepreneur of the Year