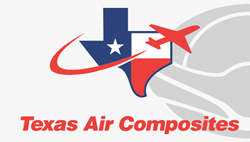 Everett, WA (PRWEB) December 09, 2014
Aviation Technical Services (ATS) has acquired Texas Air Composites (TAC), a Domestic 145 Repair Station specializing in composite structural fabrication, support and repair for regional, commercial and military aircraft. Located in Fort Worth, Texas, TAC has an experienced team of over 100 employees and operates over 138,000 square feet of climate-controlled facilities.
TAC fits into ATS strategy to grow and diversify its customer base, capabilities and geographic reach. Today, ATS is principally serving commercial airlines and OEMs; TAC adds a focus on regional airline and military customers. In addition, TAC specializes in advanced composite repair on Airbus, Bombardier and Embraer fleets, while ATS provides a suite of component, engineering and airframe services on primarily Boeing product lines. Finally, the Dallas Fort Worth area is a hub for both the aerospace and aviation industries, and it is in close proximity to ATS new heavy airframe maintenance facility in Kansas City, Missouri.
Texas Air Composites is an impressive addition to the ATS team. Their expertise in composite repair on a wide range of aircraft models pairs well with our proficiency in Component, Engineering and Airframe Services, said Matt Yerbic, ATS President and CEO. The goal for both ATS and TAC is to share the strengths and best practices between both businesses to offer robust, value-added solutions to our combined customers for years to come.
Were excited to be an important part of ATS strategic expansion, TAC President and CEO Randy Haran said. As a key supplier, we already have a strong relationship with ATS. We share many core values, especially a commitment to our highly-talented employees who have the passion to provide some of the best service in the aviation industry.
The TAC leadership team is staying in place and will continue to run the business as a subsidiary of ATS. Several partners assisted with the transaction. ATS financial advisors were Jefferies, LLC and AeroConsulting Partners and legal advisor was WickPhillips. TACs financial advisor was FBR Capital Markets and legal advisor was Baker Botts. The purchase price was not disclosed.
About Aviation Technical Services

ATS has been providing maintenance, repair and overhaul (MRO) services for commercial and military aircraft for more than 40 years. Today, ATS is home to more than 1,000 employees who work together to support a global customer base across three major business platforms: Airframe Services; Components Services; Engineering Services. From a base of operations in Everett, Washington and now with facilities in Moses Lake, Washington and Kansas City, Missouri, FAA Class IV Airframe and Class 1, 2 and 3 accessory ratings enable ATS to perform MRO services on virtually any transport aircraft in the world. ATS is a Minority Business Enterprise (MBE) certified by the National Minority Supplier Development Council (NMSDC