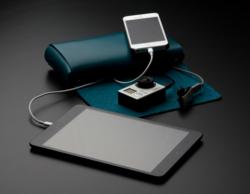 (PRWEB) December 18, 2012
AViiQ, an award-winning brand of fashion, technology and lifestyle accessories has released a new addition to their bestselling Portable Charging Station series of products. In partnership with renowned leather designers EVOUNI, AViiQ introduces the all new Portable Charging Station Folio. A small compact leather folio integrated with AViiQ unique 4-Port charging USB hub and cable management.
AViiQ Portable Charging Station Folio

Losing cables, especially while traveling has been come an common experience for most business professionals today but the AViiQ/EVOUNI Portable Charging Station Folio is the perfect solution. This minimalist approach to a travel bag with integrated 4-Port USB hub and cable management was designed to keep cables organized and ready to take on the go. Made with genuine Italian calf skin, this is handy to have while traveling and handsome enough to place on your desk or night stand. Unlike other charging stations which have special connectors and adapters, this USB charger was designed to easily use the cables most people already use everyday. It's a portable charger that also increases your USB charging time. It's also a smart phone charger and a tablet charger. Lightweight, compact and portable, it's the must have mobile accessory for those on the go.
We are very proud of this all new design and the amazing work that has come out of the EVOUNI design studios. It is by far the most elegant product we have produced yet.
The new Portable Charging Station Folio features a new 4-Port USB 2.0 hub unit. This USB hub can quick charge up to 4 USB devices and cut the charging time of most mobile devices. The cable management feature allows owners to wrap cables up and set them into place. The goal was to create a set it and forget it experience so that when traveling, owners dont have to worry forgetting or losing cables ever again. Once the cables are set, the design of the folio allows quick access to device connectors and the removable AC adapter so that it can plug it into only one outlet and charge up to 4 devices, saving space and time.
AViiQ Portable Charging Station Folio comes with a 100% satisfaction guarantee, a full refund policy within 30 days of purchase and is available for $ 99.99 at http://www.AViiQ.com.