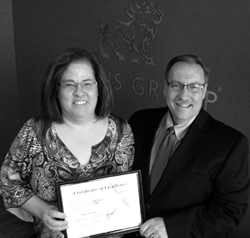 Billings, Montana (PRWEB) April 08, 2015
Avitus Group Senior Accountant, Renee Mion was nominated by her co-workers and selected by the company's Employee of the Quarter Committee for her excellent service. The committee selected Mion for providing exemplary service with a smile and a great attitude. "When Renee was nominated, she had multiple nominations that all had similar comments about her proficiency and knowledge in her daily job performance. The comments also pointed to Renee's willingness to work above and beyond the call of duty, while always having a contagious smile," says Avitus Group Public Relations Manager Dianne Parker.
Avitus Group's employee of the quarter program is designed to recognize an employee who has made a significant contribution to the company and its clients. "Our Employee of the Quarter Committee received many great nominations, but Renee's stood out. We're lucky to have her at Avitus Group," commented Dianne Parker, Avitus Group Public Relations Manager.
Avitus Group awards the employee of the quarter with the choice of a paid day off or a $ 75.00 gift certificate to a restaurant of their choice and $ 50.00 in Avitus Group apparel. In addition, the employee receives a certificate signed by the president of operations. "I am honored and pleased to have been chosen as employee of the quarter. To know that my co-workers and this company think so highly of me truly touches my heart. I work day in and day out with a wonderful group of people. Thank you all so much," says Avitus Group Senior Accountant Renee Mion.
Avitus Group is a worldwide company based out of Billings, Montana. Avitus Group simplifies, strengthens and grows businesses by providing 'back office' support. Things like bookkeeping, taxes, payroll, IT, marketing and much more. When businesses use Avitus Group, all of the necessary yet burdensome functions of the business become Avitus Group's responsibility so the business can focus on what they do best. Avitus Group serves clients nationwide through regional office locations from coast to coast. The company also serves international clients through partner locations in Europe, Canada, China, England, India, Japan and Singapore.