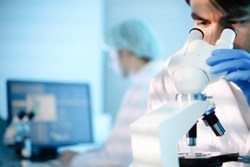 Ann Arbor, MI (PRWEB) January 28, 2014
Avomeen Analytical Services serves manufacturers, pharmaceutical companies, lawyers, and other laboratories with exceptional analytical services in order to formulate new products, investigate product failures, and solve a host of other tough problems. In addition to Avomeens state-of-the-art in-house instruments they have developed a relationship with some of the worlds premier universities in order to access the finest analytical instrumentation available.
Working with universities like the University of Michigan and Eastern Michigan University sets them apart from other analytical laboratories in that it allows their chemists to utilize new facilities and specialized instruments that most laboratories do not have access to. It also allows them access to some of the most talented emerging chemists to hire upon graduation and enables their company to find exceptional student interns. Avomeen is only a few miles south of the University of Michigans main campus, the relationship with the university allows their chemists to maintain complete control of testing processes that would otherwise need to be contracted to partner laboratories. Access to these instruments enables Avomeen to provide their clientele the best results research can offer as these resources better aid their chemists in solving complex problems and creating new formulations.
A few examples of the specialized instrumentation Avomeen utilizes on these campuses are XPS, NMR, TEM, SEM, and RAMAN. These instruments cost anywhere from $ 1 Million to $ 3 Million apiece; access therefore adds a tremendous benefit to the company without the cost of having them in-house.