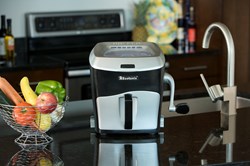 Philadelphia, PA (PRWEB) September 05, 2013
Garden Media Group, named one of the Top 25 PR firms by the Philadelphia Business Journal, continues to grow. Specializing in the lawn, garden and lifestyle industry, the public relations firm added the Green Cycler to its client roster.
The only food scrap shredder of its kind for home use, the Green Cycler is a new class of kitchen appliance that brings long-needed innovation to composting, at just the right time.
Composting is the next big environmental movement, says Gail Loos, president of Ecotonix, maker of the Green Cycler. From urban dwellers to suburban gardeners, environmentally conscious consumers are discovering the benefits of composting. Plus the Green Cycler makes composting easy since its able to be washed in the dishwasher. Were taking the yuck out of composting by providing homeowners the tools to shred kitchen scraps without smell, mess or hassle.
By shredding organic material to the ideal size, the simple, effective and clean Green Cycler speeds the breakdown cycle by 10 times or more, quickly becoming recycled food for beneficial critters like earthworms.
Manufactured exclusively in the USA, the Green Cycler is an aesthetically appealing pre-composter that is a must-have for anybody who gardens or recycles.

We love this product. With municipalities across the country mandating the recycling of food scraps, the Green Cycler will become as indispensable as the kitchen sink, says Susan McCoy, president of Garden Media.
The Green Cycler recently won a Pinnacle Award at the National Hardware Show for Best New Product this year and was looking to expand their brand reputation while growing sales.
We selected Garden Media for their creativity, media connections and established history of building brand awareness on a national level. Plus, Garden Media knows everyone in the industry, both trade and consumer, traditional and social, says Loos.
The Green Cyclers collection of sleek composters can be purchased online.
Garden Media Group specializes in the home, garden, horticulture, outdoor-living, lawn and landscape industries, and offers innovative PR campaigns designed to secure top media placements and partnerships with both traditional and social media. For gardening tips and tricks, new product announcements, and PR and marketing tips, visit their GMG! and Garden Plot blogs. http://www.gardenmediagroup.com.