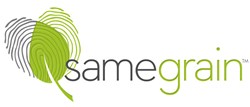 Baltimore, Maryland (PRWEB) July 17, 2013
BALTIMORE, MD [JULY 16, 2013] — SameGrain, Inc. (http://www.samegrain.com), a privacy first social discovery start-up located in Baltimores Emerging Technology Center (ETC) incubator, has secured its first platform partnership with citybizlist. The daily digital publisher of business news and information in ten U.S. city markets, citybizlist also provides its B2B clients a client development and retention solution that integrates content marketing, public relations, CEO interviews, social media, sponsored industry-focus emails, LinkedIn consulting, and facilitation of personal C-Level introductions. Citybizlist business solutions clients range from law firms and investment banks to commercial real estate, accounting and consulting companies.
SameGrain has a unique feature set and proprietary algorithm for matching people with a variety of common threads. Leveraging that platform for citybizlist readers will add a new dimension to the news experience, commented Edwin Warfield, citybizlist founder and CEO.
Recently launched in beta, SameGrain has received encouraging feedback from early users. Prior to launch, SameGrain won The Washington Posts best start-up idea competition with nearly 7,000 votes and also earned first place in a regional business plan competition. SameGrain was voted one of the top start-ups in Maryland and has been featured in several publications.
Our partnership with citybizlist is a natural win-win scenario for both companies, added Eric Eller, SameGrains co-founder and CEO. It allows us to explore new features on our business partner platform, while also building the foundation for future partnerships.
Bootstrapped by its founding team of Internet veterans and an investment from State of Maryland TEDCO, SameGrain plans to announce additional partnerships later this year. The company is also in the process of raising its next funding round and hiring additional employees.
Interested persons may request a beta launch invitation at http://www.samegrain.com.
About SameGrain (http://www.samegrain.com)

SameGrain, Inc. is a privacy first social discovery platform that helps people locate, connect with, and grow new friendships with other people that share similar backgrounds, interests, beliefs, health, life experiences, aspirations and much more; whether they are around the corner or around the globe. The company was founded by start-up veterans from Apple, AOL, Advertising.com, Ernst & Young and Millennial Media. Interested investors may contact invest@samegrain.com for more information. SameGrain is a privately held company and is headquartered in Baltimore, Maryland. SameGrain is a registered trademark of SameGrain, Inc.
About citybizlist (http://www.citybizlist.com)

Citybizlist (http://www.citybizlist.com) is a local business news, networking, posting and employment email and website presently in 10 cities: Boston, New York, Philadelphia, Baltimore, Washington, Charlotte/Raleigh, Atlanta, South Florida, Dallas and Houston. Over $ 1M in angel funding. Partnerships include The Street, Motley Fool, RapidBuyr, Live Intent, Bizo, The Guardian, Centro, Local Yokel Media, What Counts, DevelopDC, Ad Shuffle and Via Foura. Latest partnership is Pardot. Tools include ClearSlide, Handshakez, BidSketch, Newsle, and Fresh Books. The citybizlist business solution integrates content marketing, public relations, CEO interviews, social media, client development/retention, sponsored emails, LinkedIn and face to face meetings. Clients include law firms, investment banks, commercial real estate, accounting and consulting companies.
About the Emerging Technology Center (http://www.etcbaltimore.com)

The Emerging Technology Center (ETC) is a non-profit business incubator focused on growing early-stage technology and biotechnology companies. The ETC promotes economic development, providing business, technical and networking connections to help these companies grow and prosper adding to both the job and tax base of Baltimore City. To date, ETC client companies have received over $ 1.5 billion in external funding and have created over $ 375 million in positive economic impact on the City of Baltimore. Since 1999 ETC has provided assistance to nearly 300 companies, 85% of which are still in business.