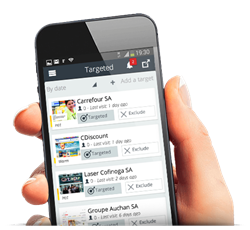 (PRWEB) October 10, 2014
Azalead Software, the B2B marketing analytics company, today announced the launch of the first mobile app to help sales and marketing teams win new business. The new app builds on the companys proprietary company ID technology that identifies the names of the companies that visit a website in real time.
The Azalead mobile app provides B2B sales teams with real time alerts and customer intelligence when their target accounts visit their website. With 57% of buying decisions being made on the internet before a buyer even contacts the supplier, the ability to know early on in the process which companies are visiting your web site provides a competitive edge in the sales process. Company visitor intelligence provided by the Azalead app includes company name, company size, industry, management details, CRM contacts, number of visits, referring websites and details of website pages visited.
In early 2014, we adopted an account based sales and marketing strategy. When we equipped our sales team with the Azalead mobile app we saw a fivefold increase in the number of sales opportunities from our website traffic and a reduction in our sales cycles said Vincent Karashira, CEO Nextperf, a leading international adtech company.
B2B companies only capture between 1% and 5% of their website visitors through webforms. This is leading to a lot of wasted ad spend said Nick Heys, co-founder and CEO Azalead Software. Now B2B companies can identify the names of those anonymous prospects that don't fill in the webforms. Leading to up to 10 times more sales opportunities.
Companies are seeing ever increasing traffic from outside their local markets. To meet this international business opportunity, the Azalead B2B visitor identification technology was designed to identify and provide detailed information on visiting companies worldwide.
To learn more about Azalead, visit http://www.azalead.com
A free trial of the Azalead app is available on the App Store and on Google Play