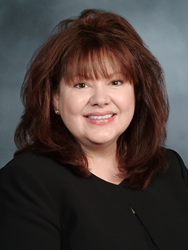 LENEXA, Kan. (PRWEB) February 10, 2015
B. E. Smith, the only full-service leadership solutions firm dedicated exclusively to healthcare providers, today named Lisa Carr as Senior Vice President, Talent Strategies. An experienced senior healthcare executive and talent acquisition leader, Carr will head the Talent Strategies division which builds strong relationships with healthcares top executive talent and manages B. E. Smiths extensive database of healthcare professionals.
B. E. Smith is an industry leading, full-service healthcare leadership solutions firm, which recently placed more than 900 leaders into healthcare organizations worldwide. Carr joins a team of healthcare experts at B. E. Smith with direct work experience in healthcare organizations. She will lead a team that is uniquely equipped to identify top talent in the industry and quickly match them to provider organizations seeking both permanent and interim leadership solutions in response to todays rapidly changing healthcare environment.
We are seeing unprecedented demand for experienced leadership as healthcare providers respond to a growing number of challenges in the industry, including the departure of senior executives who are retiring or exploring new career opportunities, said Doug Smith, President and CEO, B. E. Smith. As the top-ranked executive search firm in the healthcare industry and a strategic partner to organizations nationwide, we understand the leadership challenges providers must overcome. A proven healthcare leader, Lisa is skilled at aligning business strategies with talent acquisition objectives. We are excited to have Lisa on our team and know her leadership and experience will be invaluable to our clients and candidates.
Prior to joining B. E. Smith, Carr was Vice President of Talent Acquisition at NewYork-Presbyterian Hospital in New York, N.Y., the nations largest not-for-profit academic medical center. Her healthcare leadership experience also includes serving as Director of Talent Stewardship at Via Christi Health System in Wichita, Kan. Carr also spent more than 15 years in human resources and recruitment leadership roles for large organizations in private industry, including The Schwan Food Company and Siemens SBS.
B. E. Smith is the recognized recruitment leader in the healthcare industry and I am grateful for the opportunity to join this esteemed team of accomplished healthcare executives, said Lisa Carr, Senior Vice President, Talent Strategies, B. E. Smith. The talent strategies division is instrumental to the organizations success and I look forward to continuing the firms dedication and strong focus on serving our clients and candidates in this highly competitive healthcare job market.
Carr earned a Master of Business Administration from St. Cloud State University in St. Cloud. Minn., and a Bachelor of Arts in Human Resources and Personnel Administration from the University of Kansas in Lawrence, Kan.
About B. E. Smith:

Founded in 1978, B. E. Smith is a full-service healthcare executive search firm and the top-ranked provider of senior-level leadership services including Interim Leadership, Executive Search and Advisory Services. Veteran healthcare recruiters and regional healthcare experts partner with each client to create customized solutions. B. E. Smiths proven methodology has resulted in the recent placement of more than 900 leaders into healthcare organizations worldwide. The firm utilizes a comprehensive sourcing strategy incorporating the latest marketing techniques, association partnerships, social networking and one of the largest databases of skilled senior-level healthcare executives in the industry to deliver immediate results in todays complex healthcare environment. For more information, visit BESmith.com or call 855-254-8261.