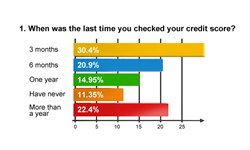 Foster City, Calif. (PRWEB) August 18, 2014
Almost 40 percent of Americans ages 50-64 have not checked their credit score in the past year, according to a new survey from WisePiggy.com. In addition, that portion of the baby boomer generation, which makes up almost one-fifth of the nations population, is most likely to have not checked their credit report in the past year, with 42 percent saying they had not done so in the last 12 months.
Overall, a third of the 2,000 people surveyed said that they had not checked their credit reports in the past year. Even more troubling, more than one out of every 10 surveyed said they had never checked their credit score.
Being proactive about your finances starts with checking your credit score and credit report on a regular basis, says Loryll Nicolaisen, WisePiggy.com managing editor. Its surprising to see how many people arent keeping an eye on their credit history.
Here are the percentages of respondents who have not checked their credit report in the last year: