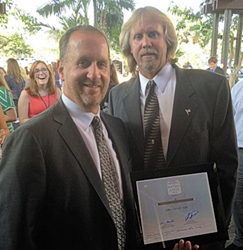 Escondido, Calif. (PRWEB) August 13, 2014
Baker Electric Solar, an Escondido-based solar company that designs, builds and installs photovoltaic solar power systems across Southern California, was named one of San Diegos Best Places to Work. It ranked #10 in the medium-sized company category — consisting of businesses with 50 to 249 US employees.
The 8th Annual Best Places to Work program was created by the San Diego Business Journal and Best Companies Group. Baker Electric Solar team members attended the special awards ceremony on August 7, 2014 at the Paradise Point Resort & Spa. They came prepared to win a top position all carrying orange Were #1 foam fingers.
Companies from across the county entered the program by completing a two-part survey process. The first part consisted of evaluating each nominated company's workplace policies, practices, philosophy, systems, and demographics. The second part consisted of an employee survey to measure the employee experience.
The combined scores determined the top companies and the final ranking. Twenty-five percent of the rank decision was based on the benefits and fun things the employer does for its workforce, and the other 75 percent was based on employee survey feedback.
Baker Electric Solars employee experience survey indicated that, on average, 93 percent of the employees were satisfied with Bakers overall engagement, pay and benefits, training, development and resources, work environment, and role satisfaction. Ninety-seven percent were pleased with the companys corporate culture, and 98 percent were happy with the San Diego solar installers leadership and planning.
When asked what does this organization do that makes it a place where people would want to work, employees gave some of the following comments: treat employees like family; product and services to be proud of; concerned about safety and well-being; great communication; makes work rewarding; fun events and culture; incentive packages and high level of integrity.