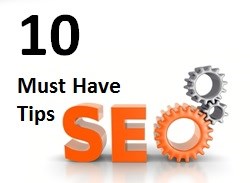 Wayne, NJ (PRWEB) September 25, 2013
Ballantine Digital, a New Jersey-based provider of search engine optimization (SEO) and online marketing solutions, has jointly released a white paper, titled "10 Must Have SEO Tips" with Next Steps Marketing, a San Francisco-based firm focused on audience building and lead generation. The white paper provides 10 tips plus action items that businesses can put into practice right away to improve their website SEO.
The white paper is designed to provide relevant and current tips on SEO that will benefit businesses now, and covers topics ranging from keyword research and content generation to social media and engagement. The paper also includes links to valuable tools and resources that can help companies become more educated on SEO strategies and streamline improvement efforts. These 10 topics will help any business get a leg up on their website SEO for the right keywords and the right audience.
For example, Tip 6 focuses on the benefits of blogging. Blogging provides fresh content to a website on a regular basis, and a continuous supply of fresh content is a good thing in the eyes of search engines. By interlinking topics on blog posts and other locations, companies can keep visitors interested in the content, and the longer they stay on a site, the more likely they are to be converted from visitors to customers.
"SEO is something that every business should be investing in," notes Ryan Cote, Director of Marketing for Ballantine Digital. "So many potential customers are searching for products and services on the internet that its essential for companies to optimize their web presence to tap into this population."
To access this white paper, and for more information on how Ballantine Digital can assist with search engine optimization, please visit http://www.ballantinedigital.com/10-must-seo-tips/.
About Ballantine Digital:
Ballantine Digital provides full-service SEO and online marketing solutions to companies looking for increased search engine rankings & online visibility. Ballantine Digital is a division of The Ballantine Corporation, a full-service direct mail company.