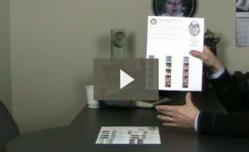 Wayne, NJ (PRWEB) February 28, 2013
The Ballantine Corporation, a New Jersey-based full-service direct marketing company, has recently published a video showing examples of different types of custom printed address label stickers and how they can be used by any type of business as a giveaway item as part of a direct mail marketing campaign.
The video, hosted by Director of Marketing Ryan Cote and Account Manager Matt Cote, provides two examples of printed address labels. The first is an order form with the labels printed on a flexographic press and the entire page is made up of pressure sensitive labels. Flexographic printing does not have the same degree of print quality as offset printing.
The second example was printed on a continuous forms press. In this case, an adhesive backing was applied to the reverse of the printed sheet and kiss-cut to allow the labels to be removed from the front of the sheet. This process uses traditional offset printing and is a higher quality than the first example. This example is also more cost effective for large print runs.
These two options for printed address labels give companies and organizations the flexibility to choose which option is best for their prospects and their budget.
"Printed address labels are often used by non-profits as a giveaway during fundraising campaigns, but they can truly be used by any business type as a giveaway as part of a direct mail marketing campaign," notes Ryan Cote. "We created this video to highlight some of the methods that can be used to create printed address labels and the pros and cons of each to help viewers understand the options available."
To watch the video, visit: http://www.ballantine.com/two-options-for-address-label-packages/
About The Ballantine Corporation:
The Ballantine Corporation is a family-owned and operated direct mail company that has been in business for more than 45 years. Their services include printing and mailing, copy and design, promotional items, personalized URLs and QR codes. Ballantine also provides SEO and social media solutions through their digital division, Ballantine Digital.