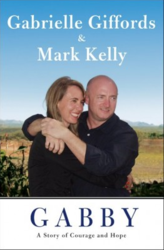 Baltimore, MD (PRWEB) September 27, 2012
The Snyder Center for Aphasia Life Enhancement (SCALE), Maryland's only Community Treatment Center for People with Aphasia and their families, is having its first fundraiser. SCALE is hosting "An Evening with Captain Mark Kelly," astronaut and husband of former US Congresswoman Gabby Giffords and author of "Gabby, A Story of Courage & Hope" on Monday, December 10, 2012, 7:30 p.m. at Goucher College in Baltimore, Maryland. Captain Kelly will discuss his new role as caregiver since the assassination attempt on his wife as well as his adventures in space exploration.
Gabrielle Giffords was shot in the head in Tucson, Arizona in January, 2011. Her injury caused aphasia-a language disorder that impairs a person's ability to speak, read and write. Nationally, more than 2 million Americans (or 1 in 250) suffer from some form of aphasia, and more than 80,000 new cases of aphasia are being reported each year. Yet, statistics show that only one in every 100 people knows what the term aphasia means. Even fewer people know how significantly it impacts a person's life.
Individuals with aphasia can lose the ability to speak, read, write or understand, while at the same time their intellectual capacities and memory remain intact. This debilitating and extraordinarily frustrating condition is commonly caused by a stroke, brain tumor, head injury, or neurological disorder. Aphasia is the result of damage to the language center of the brain. Although language abilities are impaired, intellect remains intact. With appropriate support, people with aphasia are able to reveal their competency and intellect.
Recent advances in technology are disarming misconceptions about people with aphasia, as they are being empowered to produce complex language with the support of programs that are used on mobile devices such as the iPad. Stroke survivors with aphasia in Baltimore are fortunate to have a place like SCALE, specifically designed to provide them access to these programs and technologies. At SCALE, an array of technology is used to assist stroke survivors to speak, read and write. Howard Snyder, a stroke survivor and spokesperson for SCALE, has been empowered to speak about the upcoming event with Mark Kelly using the VAST