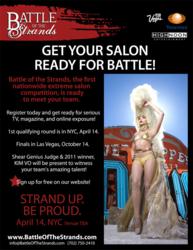 Las Vegas, NV (PRWEB) March 19, 2013
Battle of the Strands, the nationwide extreme salon competition, has opened registration for salons and stylists in NYC and neighboring cities.
Teams of 3 will present models in avant garde couture looks before a panel of industry icons. The event will be filmed by tv producers and partner, High Noon Entertainment. The first round of competition is in NYC, April 14, where contestants vie for a position in the Las Vegas finals on October.
BATTLE OF THE STRANDS (BOTS)

Battle of The Strands is an extreme hair, makeup, and wardrobe salon competition. It was first produced for top salons in Las Vegas in 2011 where Shear Genius judge, Kim Vo, led his team to victory. It has since expanded to both a national and international audience with over 22 participating salons making it to the first cut in 2012, and this year welcoming contestants from Puerto Rico & Mexico. Twelve teams will qualify and proceed through extreme and challenging elimination rounds. Ultimately the final five will compete in Las Vegas on October 14, 2013 for the championship title. Celebrity and industry icons will be the final judges deciding the teams fate!
HIGH NOON ENTERTAINMENT

High Noon is a large-scale creative house that works with only the best producers, directors, writers and editors in the business. Our formats run the gamut, ranging from the family business Cake Boss for TLC, to VH1's relationship-based Tough Love, from competition elimination series like TLC's Next Great Baker, and many more.