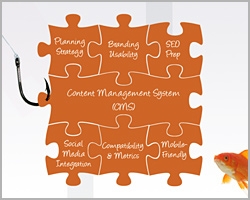 San Francisco, CA (PRWEB) November 01, 2011
Marissa Berger, founder of Marissa Berger Interactive (MB/I), a San Francisco Bay Area web design firm, was invited to speak to members of the ActionCOACH California Team, a group of certified executive business coaches, at the organizations annual meeting, which took place on September 26th at the Oakland Courtyard Marriott. Her presentation, A Strategic Approach to Building an Effective Website, was designed to give the business coaches tools to help their clients achieve desired business outcomes by improving their online presence.
ActionCOACH approached me with the idea of teaching the executive coaches how to help their clients make strategic changes to their websites that will drive traffic to the sites, enhance the users experience, and increase brand awareness, said Berger.
The Bay Area web designers presentation focused on three distinct approaches that businesses should consider when creating or redesigning a website:

1) E-Commerce: The online store should load quickly, have a clean layout with intuitive navigation, point the user towards checkout, and use search-engine-friendly code.

2) Portfolio-Based: The website should focus on what makes the company stand out from the competition. The company should clearly explain its services, with samples of its best and most recent work, and include client testimonials.

3) Corporate/Informational: A company can use the information on its website to increase brand awareness, attract new customers, and recruit new team members.
Marissa Berger also discussed a number of specific strategies that should be considered when charting a plan to lead a website towards success. These included:
Traffic Strategies: External links, title tags, meta tags, using external referral sites (Yelp, Google Places), asking for reviews, and multiple online and physical advertising strategies are all ways to drive up search engine rankings and attract visitors.
Conversion Strategies: A number of tools can be used to reach traffic goals, including Google Analytics, A/B testing, long-tail keyword phrases, PPC ads, removing obstacles to conversion, adding videos, and usability testing.
Execution Strategies: A wide range of web design options existsfrom inexpensive DIY templates to fully custom professional creations. Businesses should carefully consider which option is right to achieve their specific goals. Marissa offered insights to help the coaches select the best execution method for their clients.
It was a very eye-opening presentation, said Peter Williamson, Master Licensee for the Northern California chapter of ActionCOACH. It helped us to understand the options available and how to optimize the style of a website so that it matches the type of business.
Attendee Bob Britz added, Making a website isnt enough anymore. Marissas presentation made it clear that with so many options out there, the site needs to be right for both the business and its industry.
For more information on the Strategic Approach to Building an Effective Website presentation or any of mb/i's other products or services, call them at (925) 435-1514 or visit them on the web at marissaberger.com. MB/I offers a complimentary 30-60 minute consultation by phone or in person, depending on the callers location.
About Marissa Berger Interactive (MB/I)

Marissa Berger Interactive (mb/i) is a San Francisco Bay Area web design company that specializes in popular open-source content management systems such as Drupal and WordPress. MB/I has been developing websites since 2000 and has a diverse online portfolio of over 125 websites.
# # #