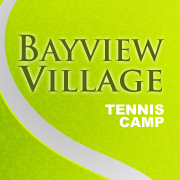 Toronto, Canada (PRWEB) April 28, 2015
Bayview Village Tennis Camp (http://www.BayviewVillageTennisCamp.ca), the Greater Toronto Areas leading provider of first-class tennis camps and clinics for players of all ages and skill levels, is weighing in on star tennis players not participating in the 2015 Pan Am Games.
Taking place on July 1026 in Toronto, the 2015 Pan Am Games will see many athletes compete against their international peers. However, some of tenniss biggest stars wont have the opportunity to perform because of previous commitments; this includes two of the biggest tennis stars in the world, Eugenie Bouchard and Milos Raonic. (Source: Gillespie, K. 100 Days to the Games: Guess whos coming to TO2015, The Toronto Star, April 1, 2015; http://www.thestar.com/news/gta/panamgames/2015/04/01/100-days-to-the-games-guess-whos-coming-to-to2015.html.)
While its definitely a great moment for both the athletic community in Canada and for the city of Toronto overall, the real privilege will be to watch and cheer for the Canadian athletes, says Peter Nielsen, director of Bayview Village Tennis Camp. Toronto has been preparing for these games for years and while the games may not be at the level of the Olympics, the absence of these players will be very noticeable.
Nielsen explains that the Pan Am games dont fall on what would be considered a protected week in tennis. As a result, Bouchard will be playing during the event at Wimbledon, where shes looking to improve on her runner-up position from last year, while Raonic is scheduled to be at a yet-to-be-named ATP tournament that will serve as an opportunity for players to improve their rankings and earn some winnings.
It's very unfortunate, he adds. At Bayview Village Tennis Camp, we believe that any time you have the opportunity to represent your country, its an honour that should be accepted with the highest esteem.
According to Tennis Canada, the country's representatives will be chosen from the best of who remains available, although that would likely include players from outside the top 50 international rankings.
Whoever is selected needs to look at this as an opportunity to prove themselves on a world stage, Nielsen concludes. Its not every day that the Pan Am Games happens and even less often that it's held in your home country. Many tennis fans will be upset that they dont get to see the best players put on a Canadian uniform, but the opportunity is there for some new stars to step up to the forefront.
Bayview Village Tennis Camp will support any Canadian tennis player who is representing Canada and wishes them the best of luck come July. For more information on Bayview Village Tennis Camp, visit http://www.BayviewVillageTennisCamp.ca.