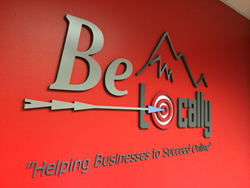 Salt Lake City, Utah (PRWEB) August 12, 2014
Be Locally SEO, Utahs leading Internet marketing firm, has moved its headquarters to the Towers at South Towne, located at 460 W. South Jordan Parkway, #140 South Jordan, Utah. The new location, in a suburb of Salt Lake City, is right off I-15 and the 106th South exit. This move allows the firm to expand its reach and offer more of its top-notch services to businesses located in Utah and beyond.
Be Locally SEO, originally headquartered in Draper, Utah, launched in 2009. From its humble beginnings, serving a mostly Utah-based clientele, the Internet marketing companys 400+ clients now range from multimillion-dollar corporations with global reach to local businesses in big cities and small towns.
In a world where a businesss success can hinge on search engine rankings, Internet marketing has never been more important. Be Locally SEO offers game-changing services such as search engine optimization, website design, and AdWords management to help their clients achieve success with their digital marketing.
Before clients ever commit to working with the company, they receive a no-hassle, free estimate from a knowledgeable account executive and have plenty of time to consider their options. We are hands on, and we never take short cuts. We follow search engine best practices to give businesses the best possible return on their investment, explains co-founder Preston Judd. Be Locally SEO prides itself on offering its wide range of customized services at competitive rates.
For an immediate consultation, call (801) 208-9444.