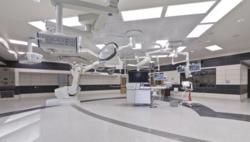 Royal Oak, Mich. (PRWEB) December 14, 2012
Beaumont Health System has opened a 9,000-square-foot center for cardiovascular interventions that will combine the expertise of Beaumonts renowned cardiologists, cardiovascular surgeons, vascular surgeons and interventional radiologists for the benefit of patients locally and around the world.
The Suzanne & Herbert Tyner Center for Cardiovascular Interventions at Beaumont Hospital, Royal Oak includes a 1,600-square-foot, high-tech, hybrid operating room/catheterization suite for leading edge cardiovascular procedures blending catheter-based procedures with minimally invasive surgery for treating structural heart disease.
A substantial amount of the $ 8.6 million project was underwritten by Suzanne and Herbert Tyner of Bloomfield Hills to show their appreciation for cardiac care received at Beaumont.
We wanted to show our gratitude and give back to Beaumont for everything that was done to save my life, said Herb Tyner. Beaumont is a first-class institution and we wanted to make it possible for them to help others who have heart conditions.
This extraordinary new center will allow us to achieve even better patient outcomes through the most advanced minimally invasive care, says Simon Dixon, M.D., MBChB, Beaumont Health System chair, Cardiovascular Medicine. The collaborative approach offered through the center means better, more comprehensive care for our patients.
The generous gift from Suzanne and Herb Tyner will enable Beaumont to maintain its position as a leader in cardiovascular medicine. This new state-of-the-art facility will provide the most innovative cardiac treatment with the least invasive approach, says Marc Sakwa, M.D., Heart and Vascular Center of Excellence chair, Beaumont Health System.
The new center allows Beaumonts heart and vascular specialists to collaborate in performing open heart and vascular surgeries using minimally invasive approaches and catheter-based minimally invasive heart procedures all in the same operating suite. For the patient, this means shorter hospital stays with faster recoveries and improved outcomes.
The centers hybrid operating room/catheterization suite is equipped with a high-definition, robotic fluoroscopy (X-ray) system and 3-D CT imaging and echocardiography monitoring. Procedures performed in the hybrid OR will include minimally invasive valve surgeries, as well as transcatheter aortic valve implantation; transcatheter mitral valve repair; transcatheter closure of cardiac defects; hybrid treatment of coronary artery disease combining angioplasty and stenting with minimally invasive bypass surgery; aortic aneurysm repair; pacemaker lead removal; and atrial fibrillation surgical and catheter ablations.
In keeping with Beaumonts commitment to academic excellence, the Tyner Center also features an innovative learning facility designed for training physicians and technical staff in the latest cardiovascular procedures. Adjacent to the hybrid operating suite, the large, elevated observation room provides physicians and trainees a unique opportunity to view procedures in real time. In addition to on-site educational programs, the center also has the capability to record and broadcast training courses to locations around the world.
Beaumont physicians are national leaders in minimally invasive heart and vascular surgery. In fact, the nations first aortic heart valve replacement performed through a catheter, instead of through open-heart surgery, took place at Beaumont in 2005.
For more information on the Tyner Center, visit heart.beaumont.edu/tyner-center or call 888-683-7678.
About Beaumont Heart Care

Beaumont is Michigans, and one of the nations, most experienced providers of heart care, ranking on U.S. News & World Reports 2012-13 Americas Best Hospitals list for cardiology and heart surgery. The Beaumont Heart and Vascular Center is a comprehensive, state-of-the-art facility thats dedicated to the prevention, diagnosis and treatment of heart problems. Beaumonts Ernst Cardiovascular Center includes six specialty clinics offering advanced and minimally invasive treatments for heart valve disease, atrial fibrillation, congestive heart failure, aortic aneurysm and dissection, plus preventive screening for adults and high school students. Beaumonts Ministrelli Womens Heart Center is the first in Michigan devoted exclusively to the prevention, diagnosis and research of heart disease in women. Find out more at http://heart.beaumont.edu/.