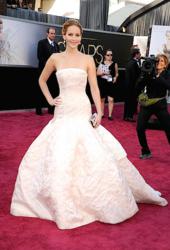 New York, New York (PRWEB) February 26, 2013
The 85th Annual Academy Awards rolled out the red carpet for some some amazing hair and flawlessly-applied makeup. BeautyStat.com — the leading online beauty community for skincare reviews and makeup reviews — reported on some of the nights hairstyle trends and makeup trends from Jennifer Lawrences frosted pale-pink nails provided by COVERGIRLs New Outlast Stay Brilliant Nail Gloss in Forever Frosted to Jessica Chastains brick-red pout best achieved using Bobbi Browns Lip Color in Burnt Red.
The night was full of Old Hollywood glam hair — which has become a staple at this years award shows — but, Anne Hathaway and Charlize Theron broke the mold with short, pixie haircuts and full-on fringe. Frederic Fekkai hairstylist Adir Abergel was inspired by Annes clean lines from her Prada gown, using texture-inducing hair products such as Fekkai Coiff Bouffant Lifting & Texturizing Spray Gel, and molding it all into place with a dollop of Fekkai Coiff Nonchalant Piecing & Forming Wax.
Celebrity stylist Enzo Angileri used Wella Professional hair products to get Charlizes short hair into a perfectly-coiffed masterpiece. My inspiration came mainly from her short hair, which she cut three months ago for a movie, said Angileri. And is now just grown out to [the] length that can be styled into a sophisticated, yet androgynous look that complements the sleek lines of the Dior haute couture gown.
The night was complete with flowing long hair, short coifurres, smoky eyes and soft pink lips. Find out how to recreate these looks at home by clicking here to see the top 5 best hairstyle and makeup looks.
BeautyStat.com (a NYC tech startup) is an online beauty community – consisting of beauty product reviews – and social marketing agency for the beauty industry. It has been featured in Womens Wear Daily, New York Times, Forbes Magazine, NBC and CBS News. The strength of BeautyStat.com is its captive, engaged and influential 100,000+ community, 190+ blogger network and 40 million social network reach. BeautyStat.com works with beauty brands, retailers and PR agencies to connect them to the BeautyStat community for online PR events, advertising and rich consumer insights.
BeautyStat.com was founded by beauty entrepreneur Ron Robinson. Ron is a veteran cosmetic chemist who has worked for such leading beauty companies as The Est