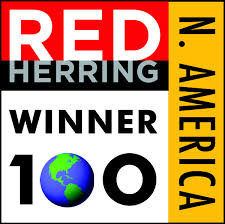 SUNNYVALE, CA (PRWEB) May 20, 2014
Become, Inc., a leading provider of Product Ads and other cloud-based marketing services for online retailers and web/mobile publishers, is a winner of the prestigious Red Herring 2014 Top 100 North America Award. As a winner, Become joins the short list that honors the year's most promising private technology ventures.
Red Herring Top 100 America enlists outstanding entrepreneurs and promising companies. It selects 100 award winners from approximately 3,000 tech startups financed each year in the US and Canada. Since 1996, Red Herring has kept tabs on these up-and-comers. Red Herring editors were among the first to recognize that companies such as Facebook, Twitter, Google, Yahoo, Skype, Salesforce.com, YouTube, Marin Software, Palo Alto Networks and eBay would change the way we live and work.
In 2014, selecting the top 100 achievers was by no means a small feat, said Alex Vieux, publisher and CEO of Red Herring. In fact, we had the toughest time in years because so many entrepreneurs had crossed significant milestones so early. But after much thought, rigorous contemplation and discussion, we narrowed our list down from hundreds of candidates from across North America to the top 100 winners. We believe Become, Inc. embodies the vision, drive and innovation that define a successful entrepreneurial venture. Become, Inc. should be proud of its accomplishment, as the competition was very strong.
Becomes Product Ads drive traffic from hundreds of web & mobile publishers to our online merchant customers, said Alex Terry, President and CEO of Become, Inc. Winning this award from Red Herring is a strong validation of our technology leadership and market momentum. We are excited, humbled and grateful for this recognition.
Red Herrings editorial staff evaluated companies on both quantitative and qualitative criteria, such as financial performance, technological innovation and intellectual property, management quality, business model, customer footprint and market penetration. This assessment of potential is complemented by a review of the track record and standing of startups relative to their sector peers, allowing Red Herring to see past the buzz and make the list a valuable instrument of discovery and advocacy for the most promising new business models in North America.
About Become, Inc.
Become, Inc. is an award-winning provider of cloud-based performance marketing and SaaS solutions that benefit online merchants, web & mobile publishers and online shoppers (Product Ads, Channel Management, Feed Optimization, Analytics and more). Become helps merchants increase sales, publishers monetize traffic and consumers make more informed shopping decisions. With over 500 publishers, Become operates the worlds largest syndication network for Product Ads. Headquartered in Silicon Valley, Calif., Become is a truly global company with offices in Europe, Asia and North America. Investors in Become, Inc. include TPG, Transcosmos and European Founders Fund.