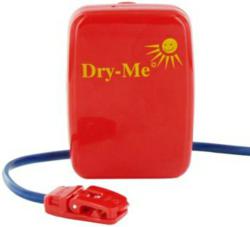 Fulton, MD (PRWEB) May 07, 2013
Every year, the American Urological Association hosts the largest meeting of pediatric urologists and nurses in the worldthe AUA Annual Meeting. Their goal is to share knowledge and set the standard when it comes to urological health.
This year pediatric nurse practitioner Renee Mercer will be running a booth to display the Bedwetting Stores newest products, the Dry-Me Bedwetting Alarm and two new vibrating watches. The Dry-Me is a modestly priced alarm that features all the best enuresis alarm features. Its moisture sensor conveniently clips to underwear, the alarm both sounds and vibrates, and it features 8 different tones so children dont tune out any specific sound.
Vibrating watches help children who struggle with daytime wetting by reminding them to void at regular intervals. The two new vibrating watches are the VibraLITE Mini 12-Alarm Vibrating Watch and the Rodger Vibrating Watch. The VibraLITE Mini has the distinction of being the smallest vibration watch available. It features a strong but discreet vibration reminder and 12 daily alarms. The Rodger Vibrating Watch is economically priced, yet still one of the smallest vibrating watches available. It features 8 daily alarms.
I look forward to educating US and international urologists about all the new products, said Mercer. Nighttime wetting and daytime wetting are both very treatable conditions. Families just need the right tools."
This years AUA Annual Meeting will go from May 4th to 8th. It features many exciting events including hands on robotics courses, live surgeries and debates.
About BedwettingStore.com

The Bedwetting Store is America's one-stop shop for bedwetting items and waterproof bedding. They have helped tens of thousands of childrenand adultssince their start in 2000. They are now the largest distributor of enuresis related products in the United States. The Bedwetting Store is proud to serve the millions of families who seek information and practical solutions to help children stop wetting. They feature a wide assortment of quality products at discounted prices. You'll find their information at your child's pediatrician's office, in many popular parents magazines and on the Web, of course. Just ask your child's health care provider about the Bedwetting Store. If they specialize in treating childhood wetting, they'll likely recommend one of their products.