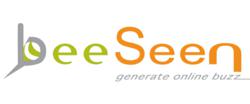 San Francisco, CA (PRWEB) December 28, 2012
BeeSeen has opened a new location in Burlingame, CA, led by E-Marketing expert and SEM specialist, Richard Lee. BeeSeen has established itself as a prominent full-service E-Marketing consulting firm, and during the firms six year history, has provided SEO consulting and digital marketing services to clients in the following industries: Online Retail, Software, Hi-Tech, Hospitality, Green, Construction, Law, Education and Financial Services.
BeeSeen focuses on E-Marketing services to help companies increase their online visibility, and more importantly increase their sales. BeeSeen offers a full complement of digital marketing services that combine the best of business consulting, Internet expertise and technology competence all combined in an upfront and comprehensive service and pricing model that delivers maximum value and a measurable return on investment. The following is a breakdown of some of BeeSeens core capabilities: E-Marketing Strategy, Search Engine Optimization (SEO), Pay Per Click (PPC) Management, Display Advertising, E-mail Marketing, Social Media Marketing, Revenue and Conversion Lift Consulting and Website Analysis and Reporting. More information on BeeSeen can be found on their website: http://www.beeseen.com.
Find BeeSeen in its new location at 1633 Bayshore Highway, Suite 128, Burlingame, CA 94010. This new location is close proximity to search engine and social media companies like Google, Yahoo, Facebook and Twitter. Richard and the rest of the BeeSeen team are looking forward to new exciting business opportunities and partnerships.