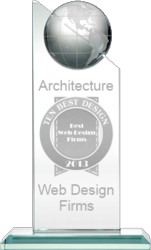 San Diego, California (PRWEB) March 12, 2013
10 Best Design (10BD) has become one of the top places to find the best web design firms from around the world. The awards organization first began when their team recognized a discrepancy between the quality of new websites entering the market and the design potential the internet had to offer. After gaining massive amounts of web traffic and significant notoriety, 10 Best Design has released their first category specialist rankings in the Best Architecture Web Design Firms awards.
10BD is known for their list of the overall best web design firms. Since first releasing these awards, the organization has grown in both scale and scope. The site has been increasing in user traffic at a compounded rate of more than 45% per month. It has also been mentioned by name in notable online publications from all across America.
As time went on, the team realized that they could be doing more to help their visitors find the best web design agency for their needs.
We realized that identifying companies that specialize in or prove that they can provide exemplary web design services in a specific industry could really help our visitors find the right designers for them, said a 10 Best Design representative.
As a result, 10BD began to find category specific firms who were the best at what they do. Their first release is the 10 Best Architecture Web Design Firms.
The first winner of 10BDs Best Architecture Web Design Firms awards is Project Projects. Project Projects works with clients in the art and architecture field. The company was founded in 2004 and does more than solely web design. Project Projects also offers print, identity, and exhibition services. They have worked with clients such as Berkeley Art Museum, Bard College Center for Curatorial Studies, and Bernard Tschumi Architects – to name a few.
The full list of winners is as follows:

1. Project Projects

2. The Future Forward

3. Yes Studio

4. Bureau Principal

5. Gr20paris

6. South Pole Creative

7. Sons & Co.

8. Build

9. Damien Aistrope

10. Hello Design
The Best Architecture Web Design Firms awards are just the beginning. 10 Best Design has announced that they will be releasing awards for category specialists from at least 12 industries over the coming weeks and months.
The 10 Best Design team has announced that rolling submission to this and their overall best firms awards are open now and will remain open as they select winners on a monthly basis.