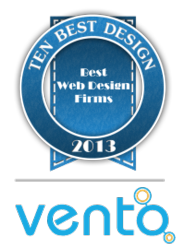 San Francisco, California (PRWEB) April 09, 2013
Vento Solutions is consistently considered to be one of the top ten best web design agencies in the country by 10 Best Design, a premier web design awards and ranking organization. 10 Best Design considers Ventos work to be exemplary, incorporating professionally implemented HTML5 design with up-to-date style and aspect. This month, 10 Best Design has once again awarded Vento Solutions in their best overall web design firms awards – #3 in the country.
10 Best Design has awarded this team more than 5 times in a variety of categories, ranging from best overall web design firm to top medical and biotech web designers. Vento has offices in San Francisco and New York City and has been providing the best design across a wide number of industries.
In fact, 10 Best Design has awarded Ventos best design awards in the categories of Food & Beverage, Medical & Biotech, and B2B Services to name a few. As a result of their exemplary web design work in such a broad number of industries, Vento has been considered to be one of the best web design firms in the country for many consecutive awards rankings.
Indeed, Vento Solutions has become known to offer the best design on more than just 10 Best Design. Other rankings sites, such as The Top Tens, a ranking organization which boasts more than 10 million user votes & 750,000 user comments, also places Vento Solutions on lists like the Top Ten Best Web Development Companies and the Top Ten Best Web Design Companies.
This month, 10 Best Design awarded the following 10 Best Web Design Firms of April 2013:

1) The Creative Momentum (Atlanta)

2) Kohactive (Chicago)

3) Vento Solutions (New York City & San Francisco)

4) Bayshore Solutions (Tampa Bay)

5) Southern Web Group

6) Skuba Design (New Orleans)

7) Cofa Media (San Diego & Los Angeles)

8) Artropolis (Minneapolis)

9) Forix Web Design (Portland)

10) Cazarin (Minneapolis)
For more information about Vento Solutions, 10 Best Design, or to submit a web design firm for upcoming awards, visit 10BestDesign.com.