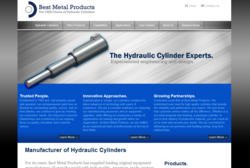 (PRWEB) August 12, 2012
The launch of Best Metal Products new website, http://www.bestmetalproducts.com/, provides information on the array of hydraulic cylinders and other products the company provides. The new site that offers quality content and visual appeal comes from Market Pipeline, a web design and development company.
With 60 years of experience, Best Metal Products offers custom, American-made, top-of-the-line hydraulic cylinders. The company, which is located in Grand Rapids, Mich. at 3570 Raleigh Drive SE, makes single acting, double acting, piggyback and telescopic cylinders for original equipment manufacturers (OEMs). Best Metal Products is capable of accommodating a variety of production and quality processes that are built for OEMs and offers more information on this for individuals who visit their website.
The companys new website educates new and return customers on product offerings along with their capabilities and applications. Stories of success are also shared on the case studies page. The websites high-quality content is easy to read and understand. Simple navigation is another positive attribute that comes with the websites makeover. Dropdown menus at the top of the website allow users to browse page to page based on category without getting distracted, mislead or lost. Therefore, shopping for hydraulic cylinders on this companys new website is a breeze. In addition to their Internet presence, Best Metal Products can be reached by telephone at 616-942-7141.
The new website created for Best Metal Products comes from the creative team of graphic designers, programmers and copywriters are Market Pipeline, a company based in Portage, Mich. In addition to web design, the team at Market Pipeline specializes in web marketing and SEO. They deliver user-friendly websites that get found in the all the vastness of the World Wide Web. For more information about Market Pipeline, check out the companys website at http://www.marketpipeline.com/.