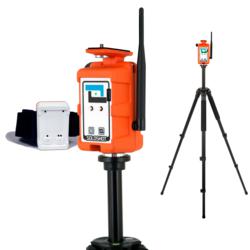 San Antonio, Texas (PRWEB) September 13, 2012
September 13, 2012 At the top of this years list of holiday must-haves for Dad is a brand new tech gadget that benefits the whole family. The new SOLOSHOT automatic cameraman tripod system lets parents get amazing hands-free action video footage of their kids soccer game, little league baseball, basketball, flag football, lacrosse, field hockey or any other outdoor athletic event. Its a high tech tripod base that communicates with a small waterproof and shock-proof transponder that is attached to a comfortable, one-size-fits-all armband the athlete wears. After an easy pairing sequence, the base automatically rotates as needed to continually keep the camera pointed at the player wearing the armband. With SOLOSHOT, parents will never again have to stand holding a camera for hours and they can finally relax and enjoy their kids game while still capturing high quality video footage of their kid from the sidelines. For all the latest updates Follow SOLOSHOT on [Twitter or Like SOLOSHOT on Facebook.
SOLOSHOT is the best new tech gadget gift for Dad this holiday season because it benefits the whole family, said Soloshot Inc.s Co-Founder Scott Taylor. I played all the little league sports when I was a kid and I wish I had video of it. SOLOSHOT allows parents to effortlessly film their kids playing these sports while letting them also enjoy watching their kids play. Its even beneficial for coaches and competitive athletes who want to use the video footage for training purposes, concluded Taylor.
The SOLOSHOT motion tracking camera system works with almost any camera, including iPhone and smartphone cameras with a third party tripod adaptor. SOLOSHOT will automatically track and film moving subjects at speeds as fast as 140 mph, from distances up to 2000 feet, and has a maximum rotating speed of 40 degrees per second. The internal rechargeable batteries last more than five hours, ensuring a kids athletic event is captured from start to finish. The included professional tripod extends to five feet tall, features collapsible legs for easy traveling or packing in the car trunk, and has a wide stance option for windy days. The charger fits U.S. outlets and works with international outlets up to 220V with a standard adaptor (adaptor not included).
Each SOLOSHOT is made in the USA in San Antonio, Texas and is $ 479 available on http://www.soloshot.com.
Media Only Contact:

Ria Romano, Partner

RPR Public Relations, Inc.

Boca Raton, FL ~ Boston, MA

Tel. 786-290-6413