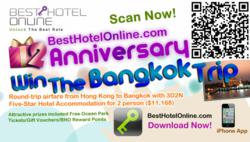 (PRWEB) September 25, 2012
BestHotelOnline.com, Asias fastest-growing hotel booking website, today introduces its new application for iPhone, which provides travelers a convenient way to search and book a hotel from more than 125,000 hotels worldwide on the go. The App is available for free download at the App store, App users are eligible to participate in the 2 Year Anniversary promotion – Win a Trip to Bangkok contest.
BestHotelOnline.coms new iPhone App Book Hotel offers exceptional features which include:
Search hotels by destination or users current location

Built-in Google Maps feature that allows users compare hotel locations

Obtain real-time information (i.e. room rates, hotel availability and special offers)

View hotel images, description and directions

Access to Tripadvisors traveler reviews

Book from 125,000 hotels worldwide , with instant confirmation
Finding hotels can be very time-consuming. We have built this easy-to-use iPhone App to help travelers to find, compare and book hotels on the road, said Stella Ng, Director of Market Management of BestHotelOnline.com.
To celebrate the launch of the iPhone App, BestHotelOnline.com is also introducing the Win a Bangkok Trip contest, which runs from 15 Sep till 31 Oct, 2012. To enter the contest, download BestHotelOnline.coms iPhone App, answer one question and submit the entry. Once youve submitted your entry, you will earn BHO reward points instantly which ranges from 5,000 points to 50,000 points to redeem cash.
To download the free BestHotelOnline.com iPhone App, please visit http://itunes.apple.com/us/app/book-hotel-besthotelonline.com/id541320773?ls=1&mt=8
About BestHotelOnline.com
Established in 2010 and headquartered in Hong Kong, BestHotelOnline.com is one of the Asias fastest-growing online travel agency, providing travelers a choice of over 125,000 hotels in 248 cities worldwide and access to more than 5,500 tours, attractions and activities in over 400 destinations. We help

travelers unlock the best hotel rate in their preferred destination with our Lowest Rate Guarantee and commit to deliver an exceptional experience of online travel.
For more information, please visit: http://www.besthotelonline.com