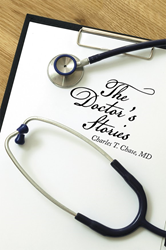 TOLEDO, Ohio (PRWEB) April 24, 2015
Over the course of 30 years in medicine, doctor and hospital Chief of Staff Charles T. Chase has witnessed firsthand an inspiring assortment of humanity, all with one trip to the hospital in common.
These experiences are collected in his new book, The Doctors Stories. Faced with illnesses ranging from a broken bone to breast cancer, each patient offers inspiration and perspective.
After 30 years in medicine, some people might expect me to be cynical, Chase said. On the contrary, Ive found that theres no better way to understand the tenacity of the human spirit than to see it challenged.
Particularly for fans of medical TV shows or Chicken Soup books, The Doctors Stories is a wonderful window into the challenges and life of a real doctor and his patients.
At the end of the day, these are stories of humanity and the efforts of those of us entrusted to help people, Chase said. It has been my privilege for over 25 years to do just that. These are their stories.
The Doctors Stories

By Charles T. Chase

Available in softcover, hardcover, e-book

Available on Amazon, Barnes & Noble, Google Books and Xlibris
About the author

Charles T. Chase is the Chief of Staff of a hospital, a neurology consultant, and member of numerous boards of directors. He lives in Ohio with his wife and daughter.
# # #
**FOR IMMEDIATE RELEASE**

For review copies or interview requests, contact:

Craig Cainkar

(317) 602-7137

ccainkar(at)bohlsengroup(dot)com