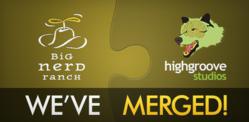 Atlanta, Ga (PRWEB) November 07, 2012
In an ongoing quest to continue to be useful to students and clients, Big Nerd Ranch and Highgroove Studios announced today that the two companies have merged, consolidating under Big Nerd Ranch LLC.
The merger places Big Nerd Ranch squarely in the nexus of future demand by marrying the complementary skills of developing mobile apps and building web services that run in the cloud. The combined company represents an overwhelming force in this post-PC era, offering unparalleled consulting and training on end-to-end mobile solutions, all under one roof.
Big Nerd Ranch and Highgroove Studios have been partners for years, explained Aaron Hillegass, founder of Big Nerd Ranch. This is a natural evolution of that relationship. I trust Charles Brian Quinn and his team and am eager to combine forces to offer a more useful and robust solution to our clients and students.
Hillegass, who founded Big Nerd Ranch in 2001, will become the companys Chief Learning Officer, dedicating more time to his passion for writing, teaching and mentoring Nerds. Quinn, who founded Highgroove Studios in 2005, becomes Chief Executive Officer of Big Nerd Ranch, managing day-to-day operations and strategy.
It is an extremely exciting time for this new Big Nerd Ranch, said Quinn. With the combined expertise of our teams, we are uniquely positioned to meet the growing demand for mobile app solutions. I am personally humbled to lead such a talented team of Nerds committed to delivering creative mobile solutions and dedicated to teaching students.
Big Nerd Ranch, now made up of nearly 80 Nerds, will continue to deliver unparalleled training and consulting in web and mobile applications, including iOS, Android, Windows 8, HTML5 and more.
Highgroove Studios has developed back-end solutions for small and growing companies around the world, including the New York Times, Wells Fargo, NASA, Mailchimp, countless startups and many more. Theyve also authored or co-authored six guides on Ruby and Ruby on Rails development.
Big Nerd Ranch has trained thousands of developers all over the world. Their books, the popular Big Nerd Ranch Guides, have been read by countless more. They also consult brands like Procter & Gamble, AT&T, Microsoft, Google, GE, Delta and Boeing and more.