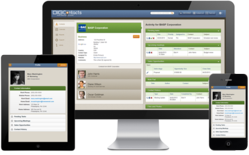 Duluth, GA (PRWEB) May 30, 2013
BigContacts, a leading provider of small business web based CRM software, announces the launch of their next generation CRM Software – BigContacts 2.0. This new platform offers an entire suite of tools to help small businesses work smarter and get more done all without hiring more people. Each feature serves an important role in assisting small businesses to improve client retention and increase prospect conversion.
Of the many features offered within the new BigContacts 2.0, highlighted today are the redesigned contact dashboard and email functionality.
The contact dashboard is unique in the CRM software space. It allows businesses to organize important information, manage notes, calls, meetings, sales opportunities and capture all email communication for a contact in one easy to manage dashboard. This dashboard allows you to view and manage an entire customer or prospect relationship all from a single screen!
The contact record is a core element of the dashboard and is where all core information for a given contact is stored. The enhancements to this section of the dashboard include a re-organization of the data within the record to provide an even more user friendly experience. The contact record also includes social media and Google maps integration for each specific customer or prospect.
The contact dashboard is organized for the most efficient communication with your customers and prospects. The history and notes for each contact is kept within quick access of the record, to allow for optimal customer service and to help maximize prospecting opportunities.
Email is an important tool used by most small businesses to stay in front of their customer and prospects. BigContacts 2.0 provides many options for sending, tracking and receiving emails. Sending and receiving emails directly through the CRM software allows for easily accessible email history attached directly to each contact record. The email dropbox features makes it simple to send and log emails outside of BigContacts as well as record incoming emails from customers and prospects. Sending group emails and creating automated email drip campaigns are just a few of the additional email features in this next generation CRM tool.
Bob Walton, founder and CEO of BigContacts, states, Over the past 6 years, my company has had the opportunity to assist over 10,000 small businesses in implementing CRM software and we have received an incredible amount of feedback from real users in the process. We studied all this input and decided to invest the last 18 months of our lives building our next generation web based CRM software. Walton continues, Thanks to the invaluable insights of everyday users, were confident that this new platform will become THE web based CRM Software of choice for small businesses.
Bob uses his 20 years of business experience to help small businesses better evaluate how they are managing the customer lifecycle today and then shows them how they can leverage CRM technology to get a handle on the entire customer experience.
For more information about BigContacts please visit http://www.bigcontacts.com or call 1-888-286-6578.
About BigContacts:

BigContacts is a software company that was founded in 2006 with a singular focus on delivering cost-effective and user-friendly CRM Software to help small businesses manage their prospect and customer relationships.
BigContacts is now a leading web based CRM (Customer Relationship Management) software solution designed for small businesses that have outgrown basic solutions like Outlook, Excel or ACT but don't want the cost and complexity of CRM solutions like Salesforce.