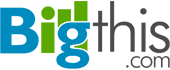 (PRWEB) September 26, 2012
BigThis.com is a community of webmasters who analyse each others sites based on factors such as design, content, security and ease of use. Reviewers can provide webmasters with feedback and optionally post their review directly on community rating sites such as MyWOT, McAfee Site Advisor or TrustPilot.
We wanted to provide a way for website owners to reach out to others to request a clean and fair appraisal of their site without resorting to tactics such as unethical reputation management.
Currently, the only way to do this is by posting a message in a forum and hoping people respond.
BigThis provides a platform that manages the whole process and gives people a genuine incentive to participate. Those requesting appraisals must in turn carry-out appraisals of other peoples sites.

Why Community Reviews are a Problem for Smaller Sites
A spokesman for BigThis.com said: One of the problems faced by websites, especially the smaller ones, is that their community ratings are usually based on very small sample sizes.
This can give inaccurate and extremely biased results. The problem is that small sites usually dont receive enough ratings to smooth-out the extremes.
What we found working with other review sites is that the typical website visitor will rarely go to the trouble of leaving feedback or ratings – unless they run into a problem.
Though criticisms may be valid and should always be noted, it means that community reviews are overwhelmingly complaint driven.
Reputation Matters More Than Ever…
The company states that browser add-ins are now widely used to display a sites community reputation when a webpage is opened and in search engine listings. Websites with poor ratings may be noticing significant falls-offs in search traffic due to this trend.
Poor ratings displayed in search results can negatively impact click-through-rates, bounce rates and visit durations; leading factors which many SEO experts believe influence rankings in major search engines such as Bing and Google.
Not only that, reputation matters more than ever in todays climate of ultra-competitive search. Google are now including a sites reputation metrics directly into their quality scores. Its not clear exactly how Google is going to use this information, but a guess is that sites with poor reputations may eventually be automatically downgraded in searches.
BigThis: How It Works…
BigThis is designed to give webmasters an opportunity have their site evaluated by other members over a period of time, and gather valuable feedback from that process. They expect that most of their potential users will be webmasters or business owners.
In order to have their site evaluated, BigThis users will need to earn credits by evaluating other peoples sites. Credits cant be purchased.
You cant just buy an evaluation and sit back and wait. You will need to participate in the evaluation of other peoples sites thats what keeps the whole system flowing, added a BigThis.com spokesman.
Reviewers are not told who the requesting user is. This is designed to minimize conflict and keep ratings impartial and focused on the facts.
Good sites which currently have distorted ratings will gain quickly from BigThis. Others will benefit from a consolidation of their already positive ratings, as well as a means of tracking their sites online reputation and gathering usability feedback.
For more information on the website and how it works see http://www.bigthis.com.
Contact: info (at) bigthis (dot) com
http://www.twitter.com/bigthisup

http://www.facebook.com/bigthis