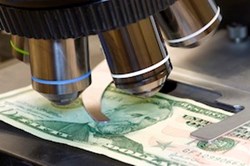 Arlington, VA (PRWEB) October 15, 2013
Lab Budgets in 2014: The Market Outlook for the United States, Europe and Asia (13-008) will explore projected 2014 lab budgets by region and the implications of these findings for the life science tools market in the coming year. This report will be comprised of both secondary and primary research.
A quantitative survey will be administered to life scientists who have budget authority in the U.S., Europe and Asia. The sample size will be approximately 1,000 respondents. There will be an approximate 75%/25% split by market segment. Scientists working in academia and government represent the non-profit sector. Life science industry will be primarily composed of researchers working in pharma/biotech.
Secondary research will focus on funding in the United States and Europe and will include an extensive review of relevant research councils, funding agencies and private funding sources.
To find out more about the scope of the report, please watch the following short video: http://www.gene2drug.com/index.php?page=reports&id=240.
"In this report, we will seek to understand current sources of funding from government/stimulus/private foundation grants, distribution time frame and how labs initiate applications for funding. We will also compare and contrast FY2013 (actual), and FY2014 (projected) average lab budgets in total by broad product category, region and market segment providing directional information for FY2014. Additionally, we will estimate scientists budget for purchases and anticipated purchases in instrumentation and consumables, examining trends across key product categories," says Robin Rothrock, Ph.D., Director of Publications at BioInformatics LLC.
To learn more about Lab Budgets in 2014: The Market Outlook for the United States, Europe and Asia (13-008), a complimentary prospectus is available at: Report Prospectus.
About BioInformatics, LLC
BioInformatics, LLC is the premier research and advisory firm serving the life science industry. By leveraging our professional social network of more than 73,000 life scientists, we have supported more than 500 companies and provided insights that lead to better business decisions. Our assignments include assessing the size and attractiveness of markets, optimizing product configurations and pricing, validating corporate acquisitions, measuring customer loyalty, and evaluating brand strength and positioning.
For more information contact:
Mary Follin

Manager, Marketing/Sales

BioInformatics, LLC

2111 Wilson Blvd., Suite 250

Arlington, VA 22201

703.778.3080 x13 (phone)

m.follin(at)gene2drug(dot)com

http://www.gene2drug.com/