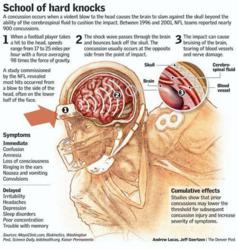 Newport Beach, CA (PRWEB) January 04, 2013
Cody Lehe suffered Second Impact Syndrome in 2006 when he suffered two consecutive injuries during game and practice. According to a Jan. 1 ABC news report, Lehe deals with the effects of those traumatic brain injuries to this day, six years later, as he struggles with memory issues and is unable to walk on his own. The report states that Lehe initially had severe headaches after a helmet-to-helmet hit during a football game.
However, he returned to go back to practice a few days later and took a shoulder hit during that session becoming a victim of what doctors now call Second Impact Syndrome, the article states. Second Impact Syndrome occurs when an individual has a second concussion before healing from the first. Although his teammates thought he was having a seizure, Lehe was slipping into a coma with brain swelling and an irregular heartbeat, the report states. Lehe was in the hospital for nearly 100 days and during his time there suffered serious and potentially life-threatening health issues including cardiac arrest, hypotension, pneumonia, renal failure and a bacterial infection, according to the article.
Although Lehe still has short-term memory issues, problems walking on his own and balancing, his family members say he is alive against all odds and is the subject of a case study published this month in the Journal of Neurosurgery, ABC reports. According to doctors interviewed by the news channel, Second Impact Syndrome has a 90 percent mortality rate and often affects teenagers because their brain is still "immature" and has not completed its development.
"I wish this young man the very best on this tough road to recovery," said John Bisnar, founder of the Bisnar | Chase personal injury law firm. "It is heartening to hear that Cody Lehe regained his ability to speak and that he continues to make progress after this type of head injury."
Bisnar says Second Impact Syndrome is something that could affect young adults who have suffered a traumatic blow to the head such as in a car accident or motorcycle accident after an initial concussion. "This is why it is critical if you've been involved in any type of accident to get a complete checkup and not to ignore your injuries, even slight symptoms. It is not a good idea to ignore symptoms such as dull headaches or dizzy spells. These are symptoms of traumatic brain injuries and Cody Lehe's case is an example of how a concussion can evolve into a life threatening or catastrophic situation."
About Bisnar | Chase
The California head injury attorneys of Bisnar | Chase represent victims of auto accidents, defective products, dangerous roadways, and many other serious personal injuries. The firm has been featured on a number of popular media outlets including Newsweek, Fox, NBC, and ABC and is known for its passionate pursuit of results for their clients.
For more information, please call 800-561-4887 or visit http://www.bestattorney.com for a free consultation.
Source: http://abcnews.go.com/Health/impact-syndrome-high-school-football-player-normal-ct/story?id=18102534&singlePage=true#.UOYil449wRw
Image credit: http://laxbuzz.com/category/protective-equipment/